Top 10 Highest Ranked Nigerians On UTR (LIST)
As the regionals of the UTR Tournament serves off on Tuesday, 31 October, 2023, Nigeria Tennis Live has obtained the list of Nigeria's top 10 UTR players.
The Universal Tennis Rating (UTR) is a global rating system for all tennis players, regardless of region age or tennis level, which compiles players' ratings immediately they start playing ITF-graded competitions.
From the world's number one tennis players (male/female) to the least ranked on the ITF rankings, every player has the UTR rating, regardless of their location.
That's the reason the slogan for the UTR rating is play locally, earn globally, and this has enabled a lot of players earn UTR points while playing within their countries.
In Nigeria, a lot of players are unaware of their UTR ratings despite having played a number of ITF tournaments over the years and in different countries.
READ ALSO: Abu Defeats Lagos Boy Basit As Mofifun Shines In UTR Tournament
Fortunately, Nigeria has also obtained license to organize UTR tournaments (coordinated by Mrs. Jumoke Yakubu) for players to pick actual UTR points from the country without necessarily playing ITF events.
And since Tuesday, 24 October, players across different regions in Nigeria have been playing UTR events in the country.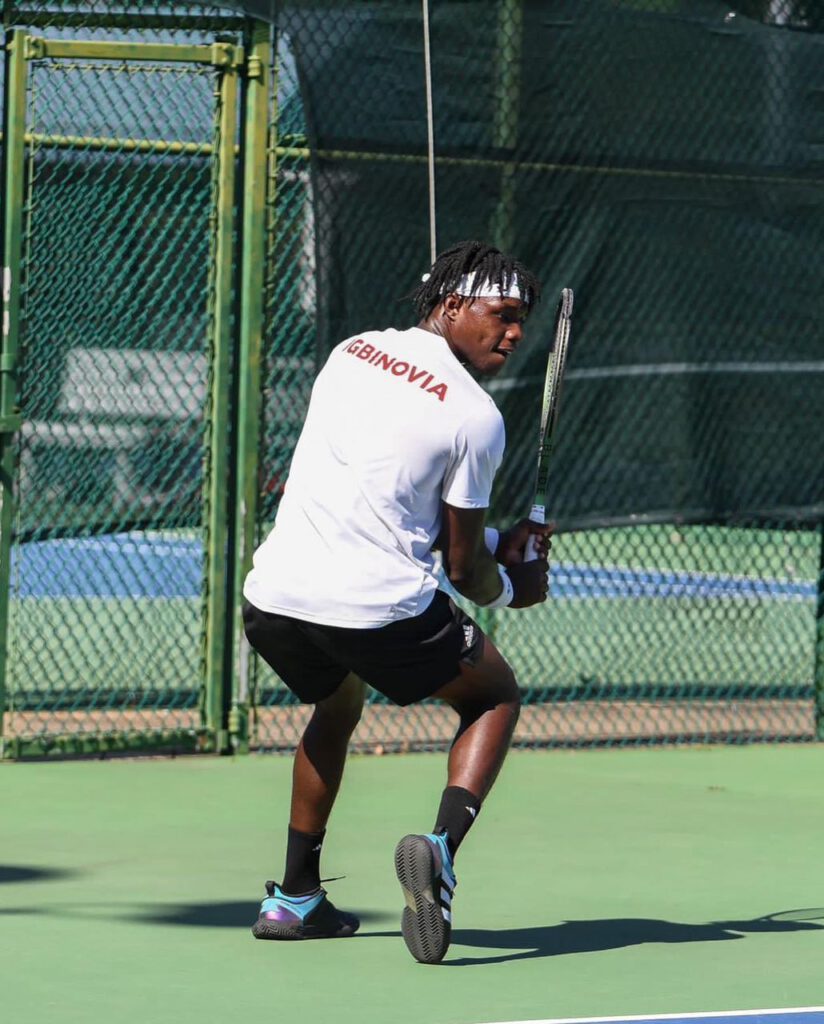 What started with the Lagos centre of the tournament has now spread to Oyo, Abuja, Niger, Anambra and Akwa-Ibom States, with players attending and playing UTR competitions across the country.
And since the regionals have started, with plans to end with a national grand finale in December, 2023, Nigeria Tennis Live thought it wise to share the top 10 ranked Nigerians on the UTR ratings with our readers and followers.
READ ALSO: TPPA Announces Regional Tennis Tournament Across Nigeria
And this rating is for the week ending Saturday, 28 October, 2023, as obtained by our correspondent from the national UTR Coordinator in Nigeria.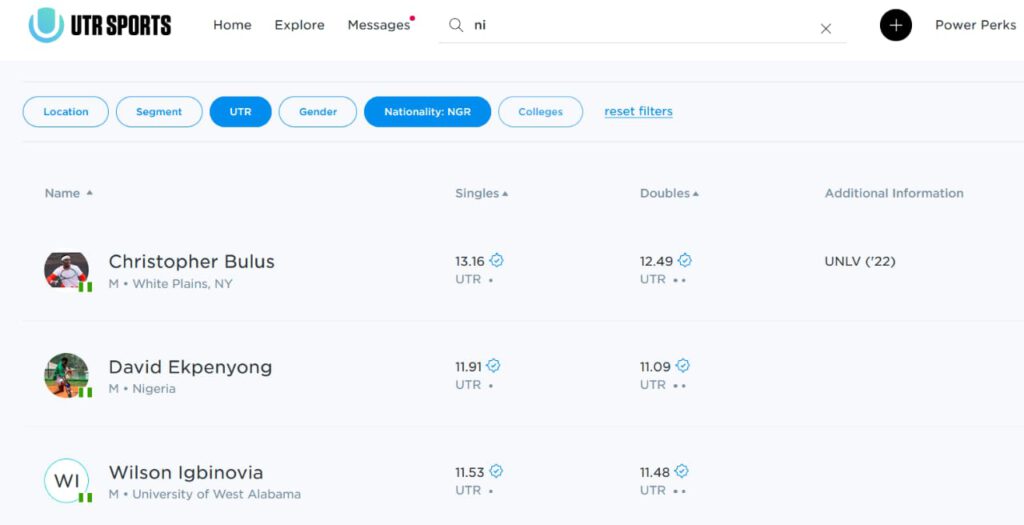 Christopher Bulus, Nigeria's only player on the ATP rankings, deservedly tops this list of highest ranked Nigerian players on the UTR and is followed in a distant second by David Ekpenyong, Nigeria's number one player who has been playing a lot of junior ITF events of late.
Wilson Oswalele Igbinovia rides on in third as his College Tennis and overall performances since moving to the United States have not gone without notice.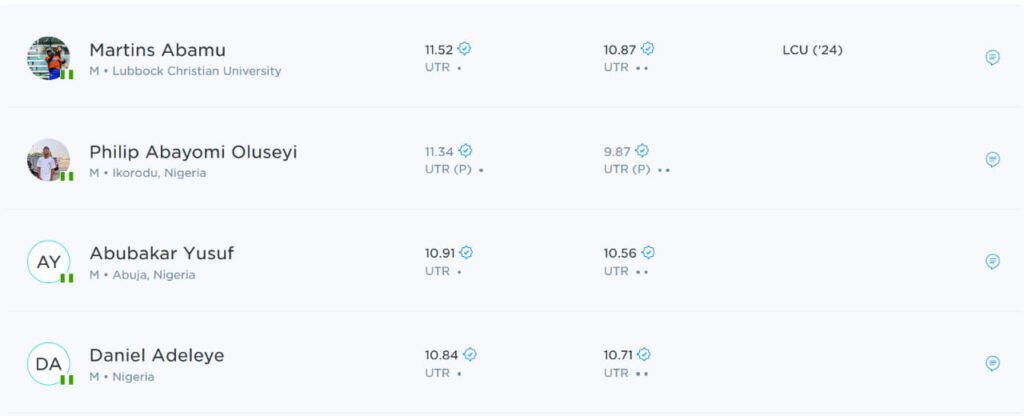 Martins Abamu, another standout College Tennis player who has been doing exceptionally well for Lubbock Christian University is fourth on this list and this may rise soon based on his consistent performance.
READ ALSO: Sarah Adegoke: Last Nigerian Female To Play Lagos Open Final
Abayomi Philip, sitting at number five, is the actual testament to the fact that you can play locally and earn globally, as his consistency with the UTR events in Nigeria has helped him with a lot of points since he has stopped playing junior ITF tournaments for a while now.
At number six is Abubakar Abu, winner of the Lagos leg of the UTR Tournament which was concluded on Saturday, 28 October, 2023. With 10.91 points, Abu was the highest Nigerian player to participate in the UTR tournament in Lagos.
Another well-deserving player on this list is Daniel Adeleye, whose consistency with ITF competitions is not spoken about enough. He sits at number seven on the list.

With Ganiyu Mubarak's recent travels, playing Junior ITF tournaments, it is not a surprise that he makes the list of top ten Nigerian players on the UTR ratings, he is one of Nigeria's finest young talents out of Oyo State.
Africa's number one U-14 male player, Seun Ogunsakin, is the number nine highest-ranked Nigerian player on the UTR Rating, and deservedly so. Even though he has not played a lot of ITF tournaments, he has played top grade competitions that have swelled his ranking to its current spot.
READ ALSO: Roseline Nana Takes A Bow, Departs Nigeria For Canada
At number ten is Nigeria's golden girl, Oyinlomo Quadre, who, incidentally, is the only female in the top ten.
Her College Tennis action with the Florida International University (FIU) brings her up to speed in this rating, and since she has started competing again this year, it is only a matter of time before she climbs up the ladder.
Please, note: This ranking was last checked on Saturday, 28 October, 2023, other updates will be made available to our readers as soon as possible.
Tagged:
Mrs. Jumoke Yakubu
Oyinlomo Quadre
Top 10 Nigerians on UTR Ratings
UTR Ratings