Ubale Reveals How Quadre Used To Beat Grand Slam Winner Okutoyi
Top Nigerian national junior coach, Ubale Mohammed, has revealed how sensational Nigerian tennis player, Oyinlomo Quadre, used to defeat junior grand slam winner, Angela Okutoyi.
At the Australian Open in 2022, Okutoyi became the first Kenyan player in history to win a girls' junior grand slam match and she followed that up by winning her first ever grand slam in 2022.
The 19-year-old partnered with Dutch tennis player, Rose Marie Nijkamp, to win the girls doubles at the junior Wimbledon in 2022, also becoming the first Kenyan to achieve this feat.
But in a recent chat with Nigeria Tennis Live, Coach Ubale noted that Quadre, currently ranked 65 in the United States, used to defeat Okutoyi when they were both playing junior championships.
READ ALSO: Top 10 Highest Ranked Nigerians On UTR (LIST)
He regretted how difficult it has been for Nigerian players to get sponsorship to play tournaments and travel around the world, noting that the former Nigerian number one would have gone farther than where she is if sponsors had swarmed her earlier.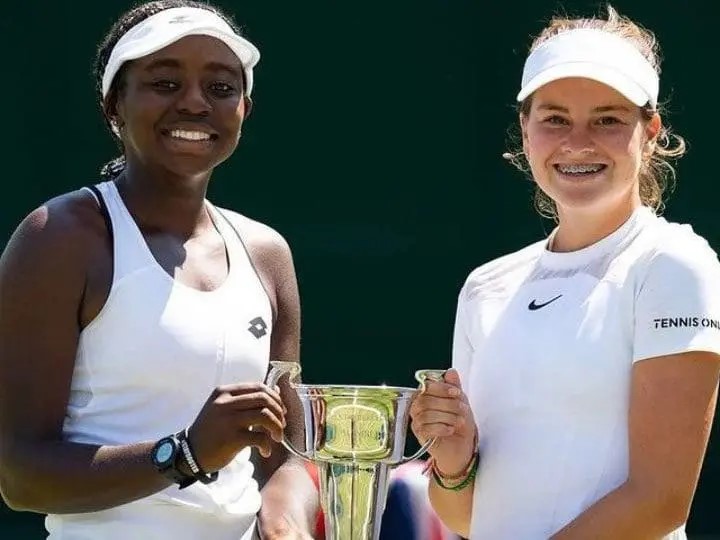 Now based in the United States, the Nigerian coach who refused to speak specifically on whether the Nigeria Tennis Federation (NTF) has done well for the players, noted that Nigerian tennis is moving backwards.
According to Ubale: "Everybody feels that he has tried in his own way, but I don't want to say anything about people's personal lives. What I know is that instead of us to move forward, we're moving backwards.
"Before, we used to have a lot of international competitions, but these days, we have individuals sponsoring the tournaments that are being played in the country.
"How many of the national junior tournaments in the country are being organized by the federation? How many national junior tournaments do we even have?
READ ALSO: Who Is The Best Nigerian Female Tennis Player?
"Apart from the Azimuth and Alhaji Isa tournaments, which other competitions are truly national junior tournaments that are not either invitational or just for a set of players?"
While speaking on Okutoyi in relation to the Nigerian player, he noted how Kenya takes their players to all competitions and ensures that they participate in tournaments at all times.
"In Kenya, they play all tournaments, they travel around, they play tournaments with the sponsorship that they are able to get.
"Oyin is a better player than Angela. Assuming she had sponsorships, she would have gone farther than where she is now.
"When we were traveling together and playing junior tournaments, she (Oyin) used to beat her; they used to beat each other, but see how far the other girl has gone now because of sponsorships that her country was able to help her with," the extremely displeased coach stated.
Tagged:
Angela Okutoyi
Coach Ubale Mohammed
Florida International University
Oyinlomo Quadre