Dala Hard Court: Organizers Give Fresh Update About Tournament
The organizers of the annual Dala Hard Court Tennis Championships have issued a new update on this year's edition of the competition.
In a press statement issued and signed by Yusuf Datti, the Tournament Director, on Wednesday, 8 November, 2023, the organizers confirmed that the tournament would be kicking off with the preliminaries on 10 November, 2023.
This, they stated, will be followed up by the main draw which starts on Monday, 13 November, 2023, which will reach a conclusion on 18 November, 2023.
The statement also added that the budget for the Dala tournament this year is higher than previous years due to the increase in prices.
READ ALSO: Nigeria's No. 1 Player Pulls Out Of Dala Event, Reveals Why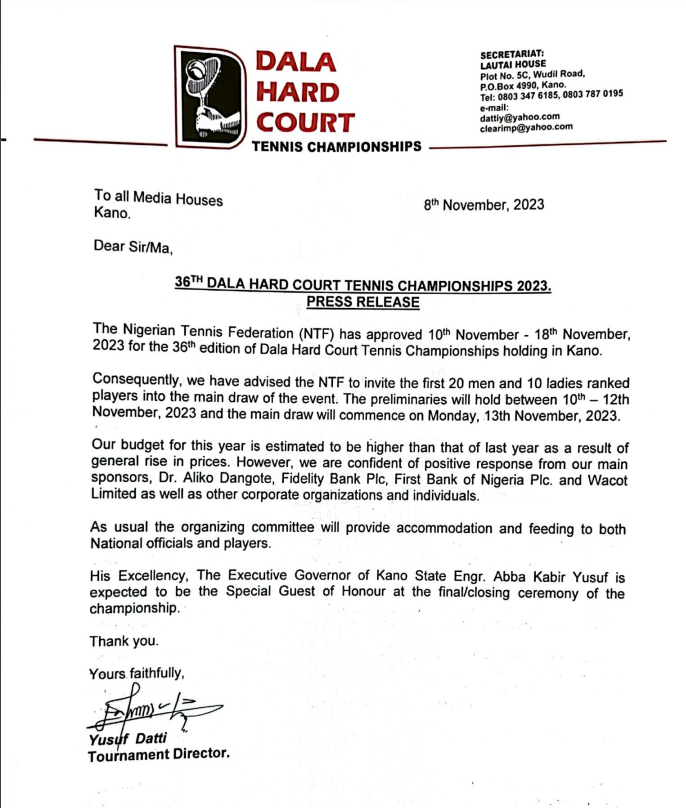 "Our budget for this year is estimated to be higher than that of last year as a result of general rise in prices.
"However, we are confident of positive responses from our main sponsors, Dr. Aliko Dangote, Fidelity Bank Plc, First Bank of Nigeria Plc. and Wacot Limited as well as other corporate organizations and individuals," the statement read in part.
As at the time of filing this report, Nigeria Tennis Live could not ascertain if the organizers have plans to increase the prize money for the players following the recent outcry over the fact that the amount does not suffice for participants.
Nigeria Tennis Live will keep updating our readers on the latest developments on the tournament as the countdown to one of Nigeria's most consistent national tennis competitions continues.
Tagged:
Dala Hard Court Tennis Championships
Kano State
Yusuf Datti