10 Talented Players Expected To Dominate Nigerian Tennis In 5 Years
Nigeria has never been short of talented tennis players, even though we cannot say the same about tennis administration in the country.
Over the years, we have experienced the influx of these super talents into the Nigerian tennis circuit with most of them fizzling out in the most unexpected manners, and Nigerians are still asking to know what happened to these players.
Some of them were frustrated out of active tennis into premature coaching while some were not carefully managed and were kicked out of the tennis scene by newly motivated players.
And in recent years, these talents have sprung up again and are now looking more than ready to explode locally and internationally. In fact, some of them have started making their marks on the international stage already.
READ ALSO: Where Does Ekpenyong Rank Among Top 10 African Players?
In this new article, we present ten of the best talents around and we hope that they live up to the billing.
Mofifunoluwa Atilola
Her name surely does magic when you try to pronounce it in full. In Yoruba, it is loosely translated to mean I have given her to the Lord.
For most junior tournaments being organized in the country, and for some time now, Mofifun, as she is fondly called, has grown over the years.
Many people may not know, but she just clocked 10, and despite the fact that she has been around for a while, she still has a lot of years ahead of her in the juniors.
In most of the competitions she has participated in, she either wins or ends up as the runner-up, and this shows how consistent she has been on the tennis scene.
She is best known to let it rain on the courts when things are not going her way, but she is also best known to have her dad as her biggest support system as he is always seen around during her matches. Hopefully, we will have drier courts in the coming years when she's playing.
Wisdom Paul-Effiong
From the name, one can easily tell that this youngster is from Akwa-Ibom, and this region is relatively unknown to many Nigerian tennis followers.
However, this youngster makes the list as a result of his commitment and consistency since he was introduced to competitive tennis about two years ago.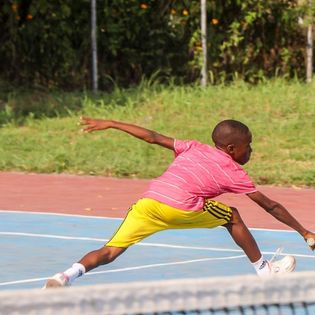 For someone who just kick-started his tennis career officially at the National Youth Games in Ilorin, it is heartwarming to now see Wisdom impressing on the national stage, bossing players who had started playing tennis long before him.
His name is on this list because he has shown great potentials to hold his own against more experienced players. And with the right sponsorship and backing, there is no stopping this young man from reaching his full potentials.
READ ALSO: Top 10 Nigerian Junior Players In The World (Girls)
Lorelay Holzendorff
There is no doubt and no gainsaying that Lorelay played her way into this list as she has remained the toast of junior tennis followers in recent years.
For those who have been watching her for a while now, she has been dominating the female juniors in her category and did the near impossible by defeating Bright Emmanuel, one of those the female players often dread, to win gold at the recently concluded National Youth Games.
Such is her talent that she also led Team Nigeria to qualify for the African Junior Championship which was held in Morocco last week. Shamefully, the federation could not fund the girls' trip to Morocco to prosecute the competition.
Be that as it may, the Edo State player is a super talented player whose attitude on court always suggests that she is a fighter who never gives up no matter the situation.
She is also aided by coaches who are extremely proud of her and they don't miss any opportunity to show that off.
David Edwards
For those who are familiar with Marylove Edwards, they will surely be wary of David who incidentally, is her younger brother.
While his potentials have not matured fully, he has shown glimpses of excellence in the matches he has participated in, and has also proven that with consistency and the right learning conditions, he can take on any player on his day.
Having already represented Nigeria outside the shores of the country, it is clear what potentials this one-handed backhand player has in store.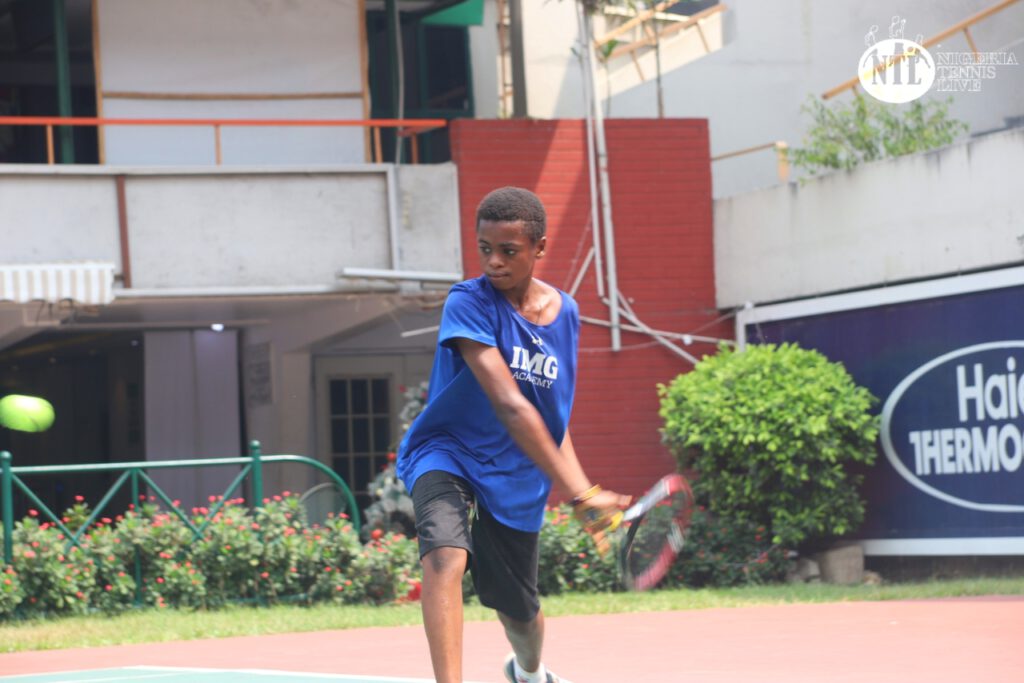 He plays with so much confidence and does not break when things are not going his way, including after losing a competitive match.
If David continues playing the way he does, and gets to face tougher opponents, it will not be long before Nigerians start singing his praises like his elder sister who rose to become the Nigerian number one female tennis player.
Roseline Nana
A proud product of the Kay-Kay Academy, Rose is one of the players Nigerians can surely put their money on.
Apart from her talent, she has the aura of a champion and for a nine-year-old, she serves like a pro already, a trait which is not common among players of her age.
READ ALSO: Top 10 Nigerian Junior Players In The World (Boys)
This youngster is enjoying the pleasure of having a solid coach in Kayode Savage put her through the ropes in tennis, and she can rest assured that in no distant future, she will reap the benefits of his labour.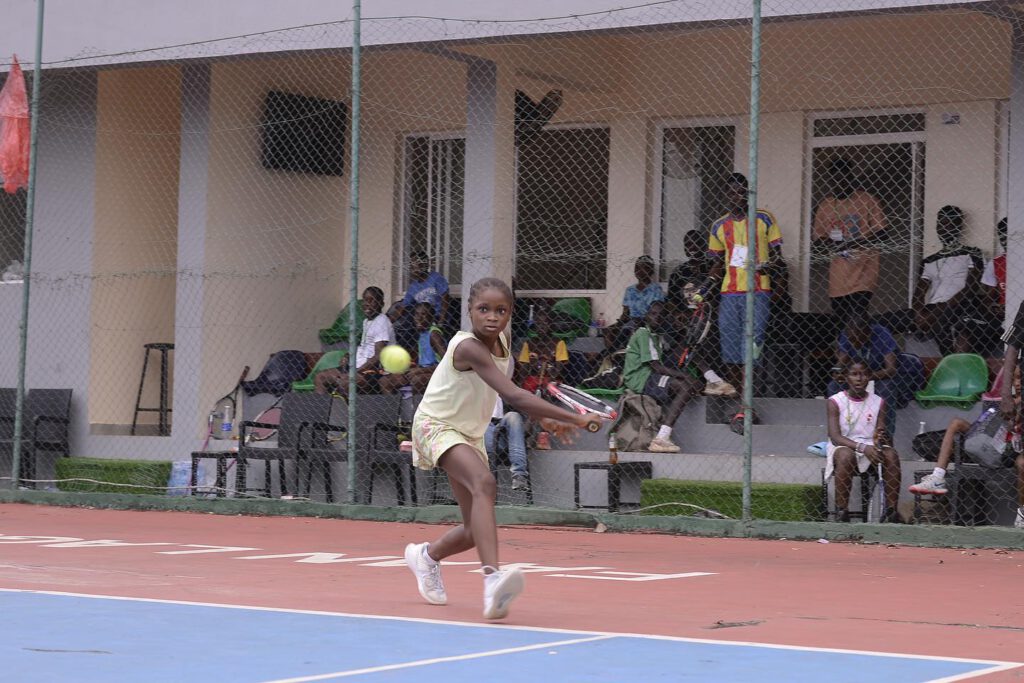 Coincidentally, Rose has formed a rivalry with Mofifun, another player whom she shares a rare privilege of wetting the courts with. Whenever this pair come against each other, it surely has to rain on the courts, and it's no surprising that they have now become rivals.
But you have to give it to this youngster, she is built differently tennis-wise, and barring any clog on her wheel of progress, Nigerians may have secured another fine gold in the frame of Oyinlomo Quadre in her.
Chukwudubem Amasiani
Of all the players listed here Duby seems like one fresh of breath air. Okay, read that again, he's one breath of fresh air for Nigerian tennis and its future.
Without any gainsaying, many senior players on the national circuit would be willing they had the kind of exposure this youngster already has.
Apart from playing and winning competitions in the country back to back, the elder of the Amasiani brothers – his younger brother Chukwubuikem also plays tennis – also has the privilege of playing outside the shores of the country.
Not only has he played outside Nigeria, he has won matches and played to finals of competitions where players from the different parts of the world competed.
'Dubem is not just a talented player, he has a really strong mentality which has helped him remain resolute on the court in the face of challenges, and one such example was in Accra, Ghana, where he led team Nigeria to qualify for the African Junior Championship which was recently concluded in Morocco.
This player is surely blessed to have his mother travel with and motivate him to be the best he can be, and with the right learning environment and conditions, Nigerians may already be staring at a potential grand slam winner.
READ ALSO: Mubarak Edges Closer To Top 1000 In World ITF Rankings
He has already been compared to world number two player, Carlos Alcaraz, so, maybe the world is beginning to see how brave Duby can be on his day.
Khadijat Muhammed
Strong, bold, athletic, daring, fierce, fearless… the adjectives go on to describe this talented Abuja-based tennis youngster.
Khadijat appears really unassuming when you watch her move around on the court, but her colleagues are not likely to want to face her on the courts when she comes up against them.
Regardless of the opposition, no matter the surface, one thing you cannot take away from this lanky young lady is her confidence on the court, even in the wake of defeats.
Whether she's winning or losing, she maintains the same composure and deals her opponents a ruthless blow when they least expect.
Having won a numerous national tournaments in different age categories, the next stop for this talented player is to get on the ITF Juniors and show her stuff to the world.
Peter Ubiebi
Peter… the rock! The sheer fact that we added him to this list of elite youngsters in the country is a testament to the fact that this boy has something in him.
The first thing you would naturally notice about him is his ability to serve. DAMN! A 12-year-old serving like that is almost going to cause panic attacks for his opponents.
While he may still be light years behind some of the players on this list, Peter packs a high level of intelligence on the court, thanks to his father and first coach Abel Ubiebi, who is credited to have discovered and nurtured the famous Oyinlomo Quadre.
With his teary days on court now behind him, it does appear as if Peter is ready to take on the world and show why his dad kept him from the public glare for such a lengthy period before unleashing him. He is a special talent.
Just with the right amount of coaching and guidance, Nigerians are likely to see another power-playing junior player with a ferocious forehand and big serve in the nearest future.
Ndidi Osaji
What is a list of talented Nigerian youngsters without the inclusion of this hardworking and hugely dedicated tennis youngster?
Ndidi is one of the Nigerian players to participate in a lot of tournaments within and outside Nigeria and she rightly deserves her spot on this list as one of the top Nigerian juniors on the African rankings.
For those who have seen her play before, this young lady is very calculative on the court, and even when things are not going her way, she just keeps going on, doing what she has to do.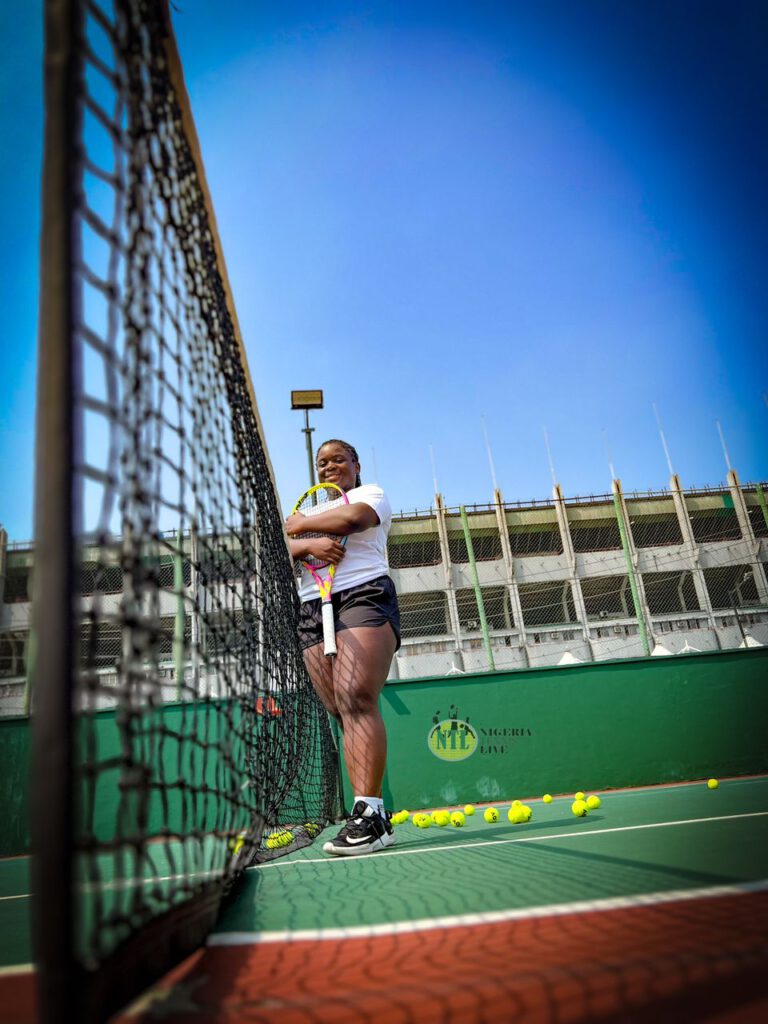 Funnily, as an opponent it is not likely for you to predict what this player is likely to do to you when you stare at her or when she's coming at you. But her sure forte is her forehand – deadly!
Ndidi is one of those players blessed to have their parents follow them to every competition, and stand by to motivate and guide them when things go south. And she is not short of supporters too, on the sidelines.
Call it whatever you want to call it, but it definitely is not luck that she is where she is in the Nigerian junior tennis sphere as she keeps putting in the work and gets the commensurate result in matches within and outside the shores of the country.
Bright Emmanuel
It just suffices that we end this list with Bright. What a player! What a mentally draining player on the court this young lady is.
First off, she is highest ranked Nigerian junior player on the CAT Rankings, despite the fact that she has not featured in a lot of tournaments on the continent. She has played only three.
If you ask any of the junior female players, she is the only player they do not like playing against, she is that dangerous.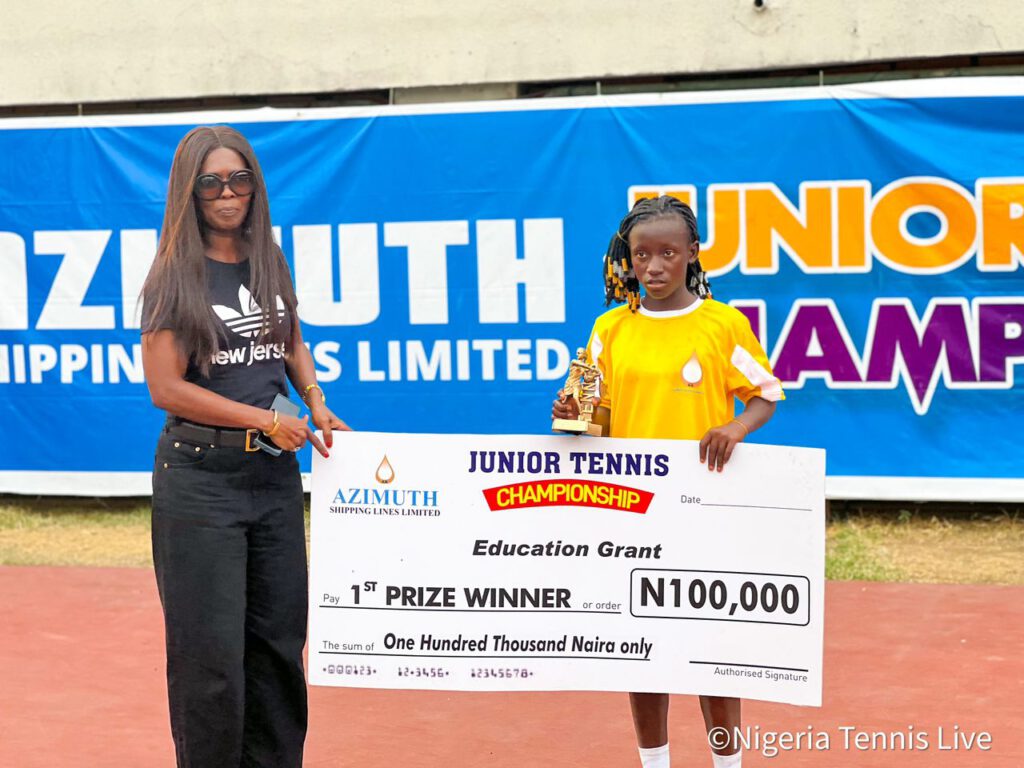 For a player who shows no flair or flamboyance on the court, Bright does come around as a player who can be easily defeated, but when the matches start, she is hardly ever defeated.
One of the admirable traits she possesses is her ability to always put all her balls in the court, no matter the opponent. Therefore, it was seen as a huge win when Lorelay edged her out smartly at the National Youth Games in Asaba a few weeks ago.
Unfortunately, Bright has not been seen with many forms of sponsorship of support in recent years, and she surely looks like a player that can be focused on because she does have what it takes to make a difference.
That's a wrap with our list. If you have come this far, it means you have read through. So, tell us, who did we miss out? Or whom do you think should be on this list? Share with us in the comments.
Tagged:
Bright Emmanuel
Chukwudubem Amasiani
David Edwards
Khadijat Mohammed
Lorelay Holzendorf
Mofifunoluwa Atilola
Ndidi Osaji
Peter Ubiebi
Roseline Nana
Wisdom Paul-Effiong