MUST READ: How Canadian Academy Discovered, Contacted Roseline Nana
It is no longer news that talented Nigerian wonderkid, Roseline Nana, will be continuing her tennis development at the Aliassime Academy in Canada.
The news about her impending move to Canada was received warmly by tennis followers, players, parents and officials, who expressed their pleasure at the development.
According to reports, the 9-year-old will be leaving for Canada any moment from now as every necessary document for the trip, Nigeria Tennis Live gathered, has been properly sorted out.
But one aspect of the whole arrangement Nigerians may not be totally familiar with, is how she was discovered by an Academy based in Canada, despite only playing within the shores of the country.
Her dad, Mr. Nana, explained in details, how his daughter was found out, how they were contacted, and how the deal was sealed, just like that.
READ ALSO: Roseline Nana: Canadian Academy Snaps Up Nigerian Tennis Wonderkid
According to him: "Sometime last year we got a like (on Instagram) by some clubs including Venus Williams and Boris Becker, we also had a conversation Patrick Mouratoglou who also said I should be sending videos of Rose training to his foundation so that they can offer her scholarship in France for a year just like they have offered some kids.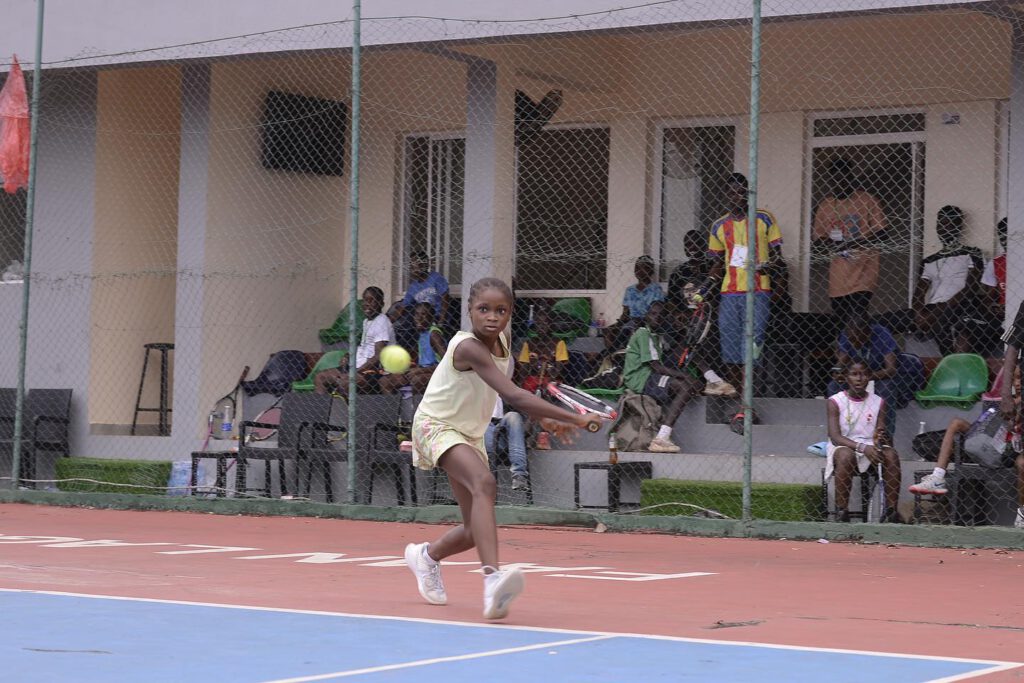 "I wasn't expecting anything from Canada until I got a message from the handler of the Instagram page of the Aliassime Academy that Coach Sam Aliassime will be in Cote d'Ivore and Togo and asked if I could take Rose to Abidjan.
"Even the Florida-based brand that Rose is one of their ambassadors also invited her to Florida for the Little MO International but we couldn't go through the stress of the US visa trouble, so we also canceled it and they said the offer is still open."
READ ALSO: EXCLUSIVE: About Six Nigerian Youngsters Set For US College Switch
Rose and her dad had to go to Abidjan to meet Coach Sam, a trip which lasted two days as they had to travel by road. But it was not one they could avoid, so, they had to go through the trouble.
"The trip and notice was short and I never anticipated the distance from Lagos to Abidjan was that far for Rose, it was a tough 2 days and we had to sleep in a car at the Ghana/Cote D'Ivoire border because they had closed to open by 6am.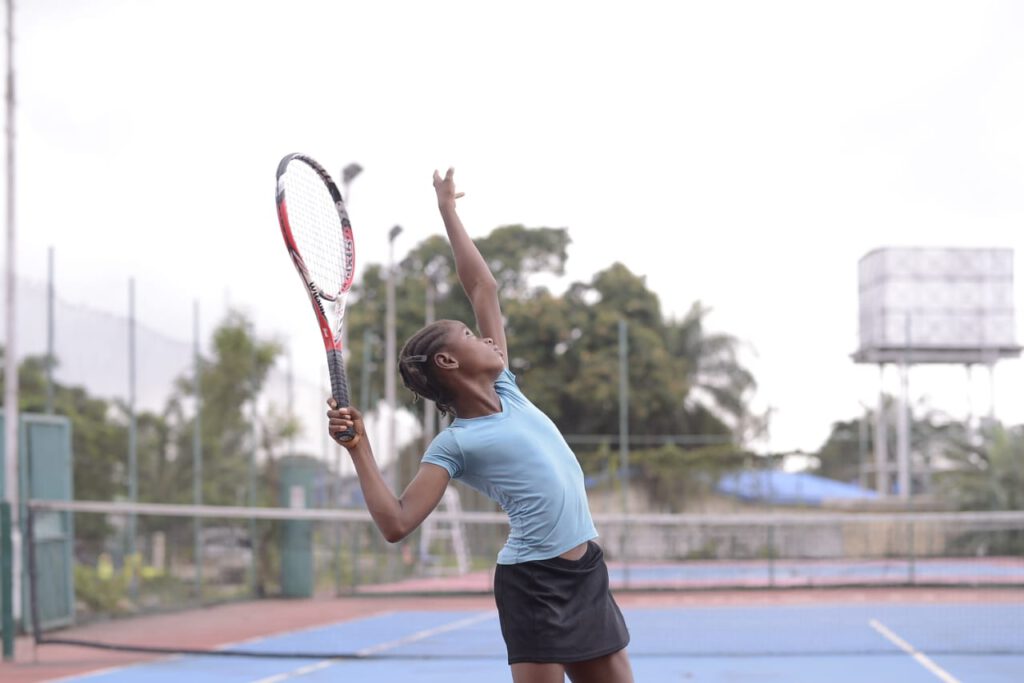 "We stayed in Cote D'Ivoire for about 2 days and they wanted to see her in real time more like a trial even though I thought it was for a future plan.
"We were told to meet up in Lome but before we got to Lome, they had traveled to Northern Togo for another tennis project by coach Sam, so they made arrangements later in the day for someone to pick us from the stadium to the service apartment prearranged for us," Mr. Nana narrated further.
Now to the interesting part, where other young players were made to watch Roseline play per Coach Sam Aliassime's instructions.
"At the stadium, they had other kids most of whom were in the Togolese national junior teams that took part in the under 12 & 14 ITF, so Rose was the youngest then at 8.
"During the drills, something happened. Coach Sam called other kids one after the other to hit balls but Rose wasn't called even though she was on the court with them.
READ ALSO: How To Land Your Dream Coaching Job In The United States
"I was at the stand and I was a bit frustrated thinking he was not satisfied with Rose, but I never knew he had other plans.
"After a while he asked other players ages between 12 – 16 to watch Rose play and that was when I realized why he asked us to travel to Togo.
"So when Rose started playing he started he started saying things in French I never understood; but I believe he was telling them to watch her technique but I might be wrong," the excited parent explained further.
"So on the last day I was invited to the office for some discussion. In the office Coach Sam, Dorateja (white lady coach) and I were the only ones in the office, Coach Sam only spoke in French and the Dora translated in English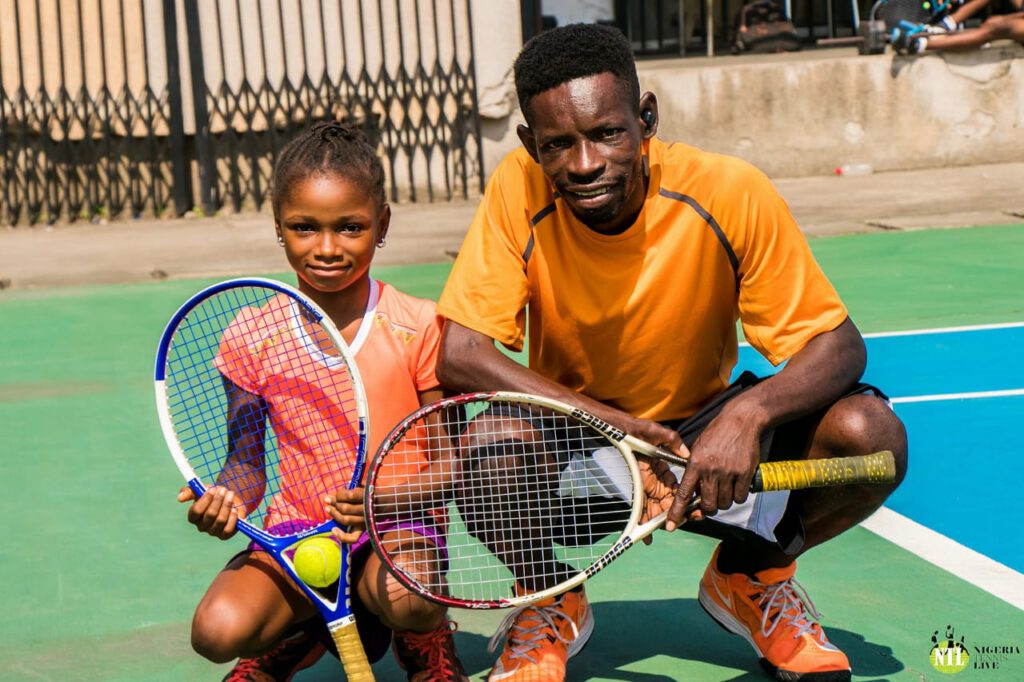 "So they so they asked if I wanted her to join the academy in Lome, so while I was contemplating on what to reply them because it would mean she stays in Togo with other kids and I will be in Lagos; while I was still brainstorming, they asked if we could come to Quebec to the main academy, I said yes, so they said they will be leaving the next day and more details will be given to me by Dora (white female coach).
"When she got to Canada and we got home, I got a message stating the plans, 3 months with an option to extend, Rose will be in the academy and I will be off the hostel because it is meant for players and coaches alone, so I agreed and then few weeks later they processed the letter of invitation and sent to me."
READ ALSO: Double Champion Rose Nana Rules Lagos Schools' Tennis Championship
"So starting from the 31st of October till the end of January for the first phase, then we can make arrangements for the main plan to extend, which include schooling in an international school and touring with the team," Mr. Nana concluded.
A lot of Nigerians will be looking out for all the details about their tennis prodigy who is taking the right step in the right direction for her tennis development.
Congratulations again to Roseline Nana and her family.
Tagged:
Aliassime Tennis Academy
Mr. Nana
Roseline Nana
Sam Aliassime
Togo