Meet 14-Year-Old Obi Who Adores Seun Ogunsakin
Seun Ogunsakin, the African no 1 U-14 player, is already an incredible inspiration to Nigerian players who are within his age bracket.
The Ekiti-born Tunisia-based talented Nigerian player is hugely admired by Obi Elijah Ifechukwu, a 14-year-old player who is participating at the Lagos Schools' Tennis Championship which is currently being held at the Lagos Lawn Tennis Club, Onikan.
Obi, a player from the Apapa Tennis Club, is participating in his first ever tennis competition, and would not stop speaking highly of his counterpart during a brief chat with Nigeria Tennis Live.
The event sponsored by the Allison and Oluremi Ayida Foundation has been gaining widespread attention, especially for helping players participate in their first ever tennis competitions and this player is not an excemption.
"It's my first tournament in history and I am very happy," he began when accosted by our correspondent.
Obi would alter reveal how he felt when he was first informed about the tournament.
READ ALSO: Zimbabwean Coach Reveals Ogunsakin's Style That Reminds Him Of Nadal
"When my coach first told me about this tournament, I was just happy anyhow. Me that I started playing tennis four months ago, and I am already playing this kind of big tournament? Ah! I'm very happy, Sir," he said with a beautiful smile on his face while simultaneously rubbing his stomach in ecstasy.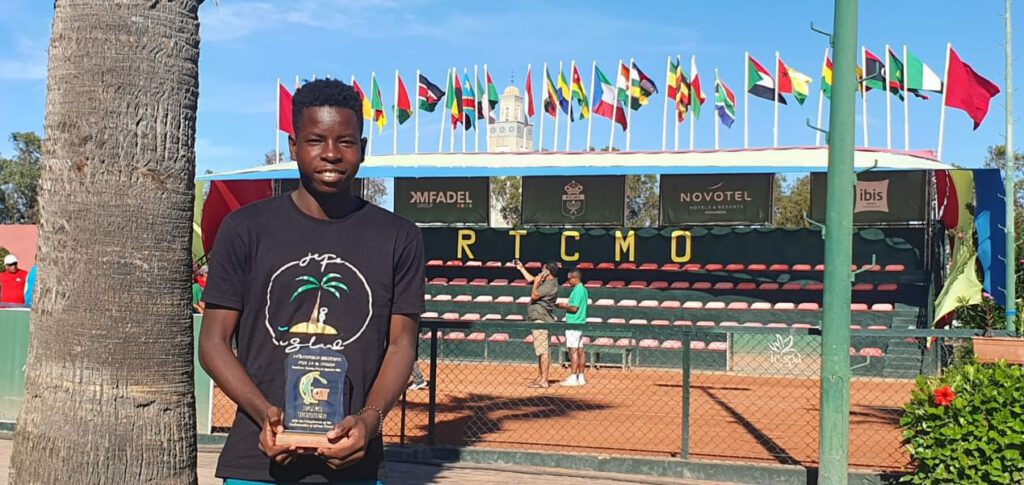 The SS1 student who dumped football for tennis further revealed his reasons for joining the legion of tennis players in Nigeria.
According to him: "I started playing tennis about four months ago and I train with Coach IK. I started playing tennis because I love the sport.
"I dumped football for tennis because my parents wouldn't buy boots for me to train, and there was little or no time for training as a football player. But tennis gives me time unlike football. I also love watching tennis on tv.
READ ALSO: Seun Ogunsakin, The Indisputable African U-14 Super Champion
"I've not gone far yet, but I'm enjoying playing tennis already. I have plenty time to train, even after school. And I'm just happy to be here for this tournament. I thank God for the people that gave us this tournament, I'm happy. I just want to be a tennis player, that's all."
For someone who is not quite familiar with Nigerian tennis players or other tennis greats, he must have seen something exceptional about the young Ogunsakin to admire him a lot.
When Nigeria Tennis Live asked if he has any Nigerian role model, his response was in the negative, but he quickly racks his brain, and like someone who just had a memory flash, he quickly reversed his statement and said "yes, there is one player like that that I like".
READ ALSO: Euro Tour: German Tournament Director Gives Verdict On Seun Ogunsakin
Speaking further, he said "Err… that one that plays with his left hand" and our correspondent asked if he was referring to Uche Oparaoji, Nigeria's former number one, but Obi was sure it wasn't him.
When he was asked if he meant Seun Ogunsakin, his face brightened up and he said "Yes, that's the name. Ah! I like that boy, him dey play fire".
Surprised that a young player adores his mate that much, our correspondent asked him what he particularly liked about the southpaw player, and he said: "Omo, I like that Ogunsakin boy o. I've watched him play before and I really like his forehand. If you put the ball on his forehand, your own don finish be that."
Again, the Allison and Oluremi Ayida Foundation, sponsors of this tournament, can start counting their gains from the competition already, as more Nigerian players are getting the opportunity to actively compete after weeks, months of training.
Tagged:
Allison and Oluremi Ayida Foundation
Apapa Tennis Club
Lagos Schools Tennis Championship
Obi Elijah Ifechukwu
Seun Ogunsakin