Facts About Oyinlomo Quadre We Bet You Never Knew Before
Apart from being the darling of tennis followers in Nigeria, Oyinlomo Quadre has an interesting and enviable social life which she takes seriously.
At least from her occasional social media posts, we know that there is an actual life for the Nigerian superstar outside tennis, so, we decided to pry even further. You need to check out some of the things we discovered.
Korean Movies Watcher
For starters, Quadre is like many other Nigerian ladies, they have this special interest in watching Korean movies, for whatever reason.
And apart from watching these movies, she reads a lot, precisely about Wolves. Who reads books about Wolves, though?
"I love watching Korean movies, I like to read books about Wolves, I don't take coffee at all," she told Nigeria Tennis Live during the chitchat session.
Food Lover
Not only does our darling Oyin love tennis, she loves to eat too. Yes, one of the things she loves doing the most is eating.
READ ALSO: Ubale Reveals How Quadre Used To Beat Grand Slam Winner Okutoyi
Even though she's a huge fan of food, the former African number one junior player does not eat anyhow or just any kind of food. She likes plantain, anything that has plantain. Be warned!
Quadre said: "One thing I love doing the most, I love eating. I think everybody around me knows that. Basically, I don't eat like in huge proportions.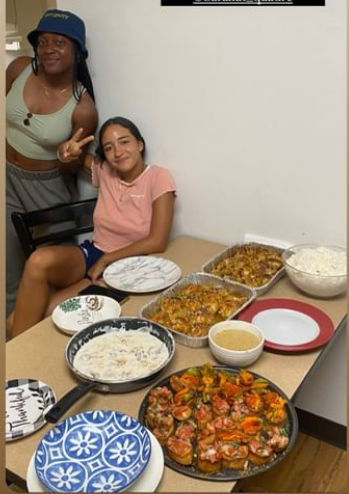 "My favourite food is plantain, basically, anything that has plantain – rice and plantain, beans and plantain, plantain and egg.
"As much as I love food, I'm quite picky with food. There are things that I don't eat.
"I don't like Ogbono, I don't like semo. I don't eat spicey at all. I'm not a very good cook, I'm an average cook. I can cook basic stuff – rice, pasta, noodles."
Dresser and 'Turn Upper'
Now that you've heard that our star girl is not a fan of Ogbono and Semo, are you happy? Why aren't you happy, though? Maybe you should ring her, haha!
So, what else does this 20-year-old daughter of SK's do when she's not eating or watching Korean movies? She actually told us.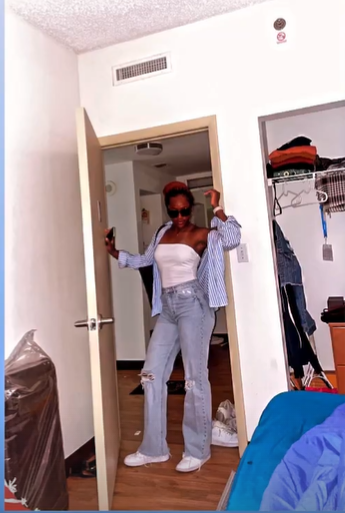 She said: "In my free time, apart from eating, I like to dress up a lot. I like to style people, I like to just because I get to dress up and I like to play ping-pong, sometimes squash, I don't like to swim a lot."
READ ALSO: Top 10 Highest Ranked Nigerians On UTR (LIST)
Bicycle? No, please!
You don't actually have to shame the shameless, no you can't. Our Psychology Major at the Florida International University was totally focused on playing tennis so, she wasn't really keen on other games.
There's no point trying to whine about why she cannot do some of the things y'all are familiar with, there are other things she can do – which you cannot do.
"I didn't play a lot of games growing up because I was just playing tennis, so one of the things I don't know how to do is riding a bicycle," Quadre told Nigeria Tennis Live.
Don't take my phone!
Okay, okay… for most of you, the idea of your most priced possession may be your cat, your dog or your car, but that's not the same with the Lagos girl.
Maybe that's possibly why she does not close her eyes fully when she's sleeping. Yes, you read that correctly.
When you have such an item that you cannot do without, how dare you close your eyes and sleep off while the item is in your possession?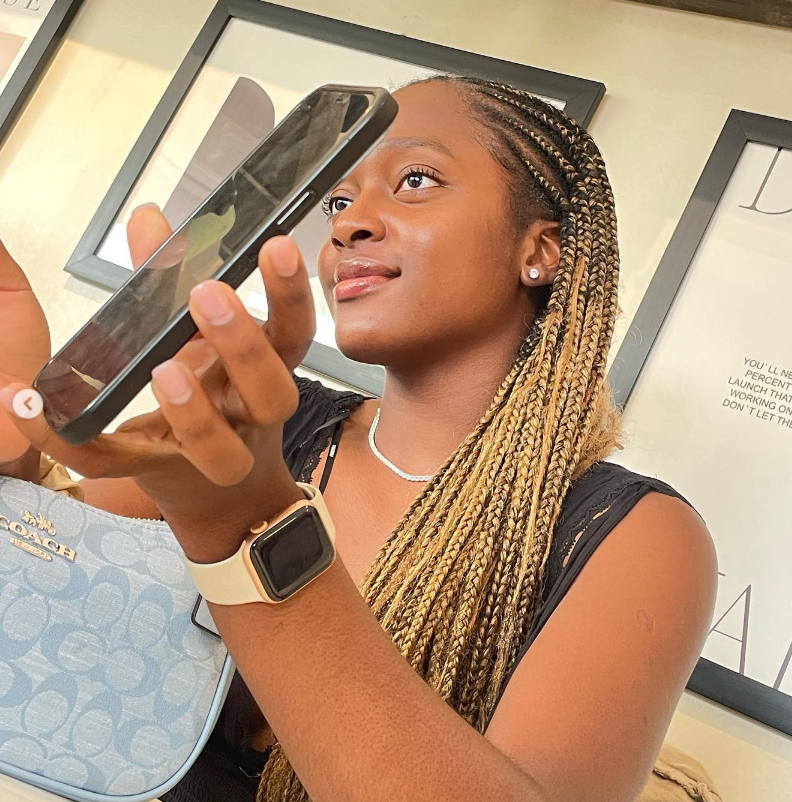 Well… you have to read what the former Morocco-based player had to say about the one item she cannot do without and her sleeping pattern. Not your regular, really.
READ ALSO: EXCLUSIVE: About Six Nigerian Youngsters Set For US College Switch
She said: "The item I cannot do without is my phone sadly. I don't use dampeners on my rackets.
"People tell me that my eyes aren't fully closed when I am sleeping."
No dogs, please!
There's actually no big deal about dogs pursuing you. If dogs have never pursued you before, you probably have never lived life to its fullest.
Let's not leave the major issue and focus on the minor, the idea of dogs running after you is not something you want to happen when your friends are around.
But this our star player, she has seen it all. Been there, done that, and has been pursued by a really huge dog before, sadly.
In real life, she is actually scared of dogs. But in the same real life, it gets even worse when they are dogs that she is not used to.
"I am scared of dogs generally except for dogs that I know very well.
"So, once, a huge dog was running after me, because he thought I wanted to play which was the opposite.
"So, I started to run and cry in front of all my friends," the gorgeous Quadre stated.
Well, those are some of the things we bet you never heard or knew about our star girl, and we believe you'll not mention any of them to her when you see her.
Tagged:
FIU Women Tennis
Florida International University
Oyinlomo Quadre