Ekpenyong: Conquering Them All; 8 Finals, Two Runner-up Trophies
You'll have to go back as far as September, 2022 for the last time David Ekpenyong lost in a final of an ITF event, that's of course before his recent trip to Canada.
His record on the Junior ITF Circuit seems like that which was predestined and which cannot be scripted any better, not the least the manner in which he has achieved the feat.
Since his J5 runner up feat in Lome, Togo in 2022, Ekpenyong has won every J4, J30 event he has participated in, that's how bullish he has been on the courts.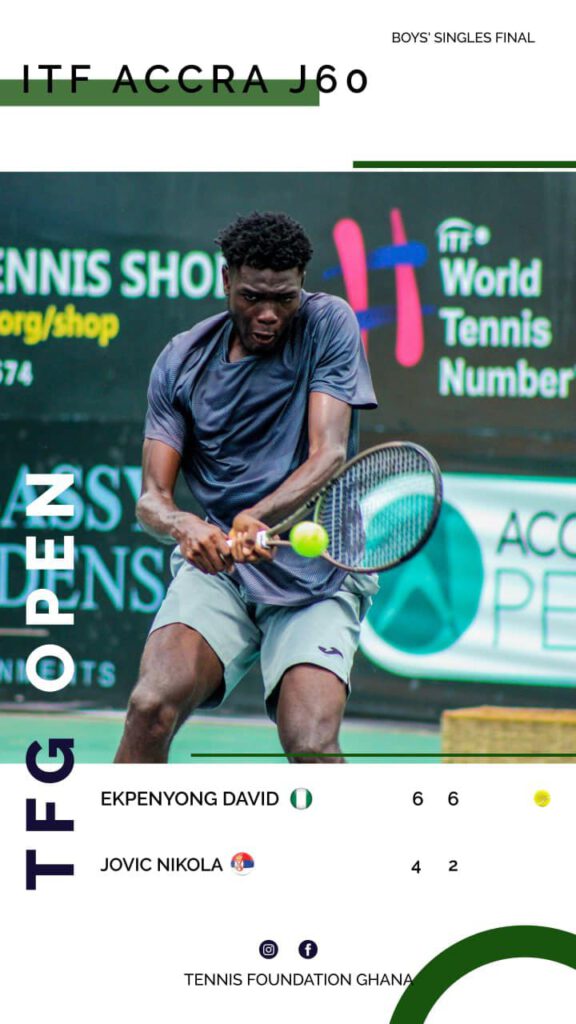 In fact, he would have won the J100 final in Canada because he played in the final of that event and it was a really tough one because he played a final set tie with eventual winner Jack Kennedy from the United States of America.
READ ALSO: Accra J60: David Ekpenyong – The Last Man Standing
Nigeria Tennis Live gathered that he will be playing another two weeks of J100 events at the Tennis Foundation Ghana tournament in Accra, which represents another opportunity for him to walk up the ladder on the rankings.
Already, with his J60 win, Ekpenyong is guaranteed a leap on the rankings, but one can only imagine how high he'll leap if he's able to win the finals of the two events ahead of him.
After playing eight finals, and winning six of them – including five on a bounce, the sky is only the stepping stone for the Nigerian Mr. Lanky who is nearing his final days in the juniors.
Nigerians can keep looking out for more exploits from the 17-year-old who keeps putting Nigeria out there on the tennis map for the very good reasons.
Congratulations, Mr. Lanky. We see you!
Tagged:
David Ekpenyong
Ghana
Junior ITF Circuit
Nigerian Teenager