Shehu Lawal: Ojuju's Last Match Before Bowing Out Of The National Stage
One of the many beautiful attributes of Shehu Lawal, the Nigerian tennis legend, is his beautiful smile on the court, even when he is angry.
Okay, so, even though he may not be actually smiling, his face always cuts that of one who's smiling. It was always a delight to see.
Together with Abdulmumin Babalola, Lawal formed arguably the strongest and fiercest doubles partnership in the history of Nigerian tennis.
But Lawal was really dreaded on the court, especially for his heavy serves. He served so well that you could naturally tell the power that accompanies the serves when he unleashes them.
Such was the legendary status of Lawal that former Nigerian number one player, Sylvester Emmanuel drew a strong belief in himself and abilities after defeating him for the very first time.
"The first senior player I'll ever beat in my senior career was Shehu Lawal, actually.
"I won against Shehu at the Rainoil Masters in January that year. It was the very first edition.
"When I won against him, I was so happy. I was like wait o, so I can actually beat these guys and all, you get," the former junior international noted.
Speaking further on the win and how it made him stronger mentally, the CBN Open defending Champion said: "Winning against Shehu made me believe that I could do more in Nigerian tennis, that I could achieve a lot.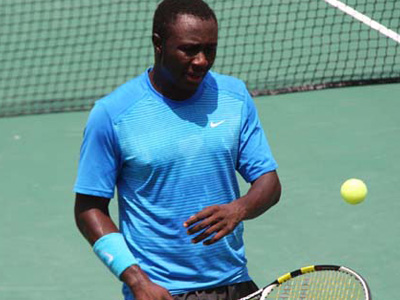 Not only did the legendary player dominate locally, he was dreaded globally and it was unsurprising that he and the likes of Novak Djokovic were contemporaries.
In fact, in 2003, when Djokovic was ranked 74th in the world, the man fondly called Ojuju was rated 83rd in the junior ITF rankings. That's how solid he was in the juniors.
He also represented Nigeria in the Davis Cup competition, where he held sway between 2005 and 2016.
In May, 2023, when Lawal partnered Musa Mohammed to play the Doubles Semis against the pair of David Ekpenyong and Uche Oparaoji, there was nothing different about his performance.
He went hard for every ball, hit his big serves as always, contested every decision he was not comfortable, and like a teenager, still felt agitated after giving the ball to the opponent or when his partner defaulted.
With all these displays on the court, it was therefore surprising to later learn that he left the shores of Nigeria that same night for the United States of America to resume as a tennis coach in an unidentified tennis academy.
Young players can take a leaf from the legendary displays and performances of Shehu Lawal and leave their mark on the tennis stage before they 'hang their rackets'.
Tagged:
Legendary Nigerian Player
Novak Djokovic
Shehu Lawal