Sharing Court With Quadre Will Be A Dream Come True – Sarah Adegoke
Nigeria's former number one female tennis player, Sarah Adegoke, who is finally making a return to the national stage with the 42nd Central Bank of Nigeria (CBN) Open, after a two-year hiatus, is targeting a match against current champion, Oyinlomo Quadre.
The former national champion had been unavailable for tournaments, having last played and won the competition in 2018, .
Since then, Quadre had burst into the national stage and won all the national competitions available.
But the 23-year-old is ready to take back her rightful place as Nigeria's queen of tennis and says sharing a court with the African number two junior player will be a dream come through for her.
In an interview with the official website of the Nigeria Tennis Federation (NTF), Adegoke noted that she battled injury while she was away, but noted firmly that she is now back and better.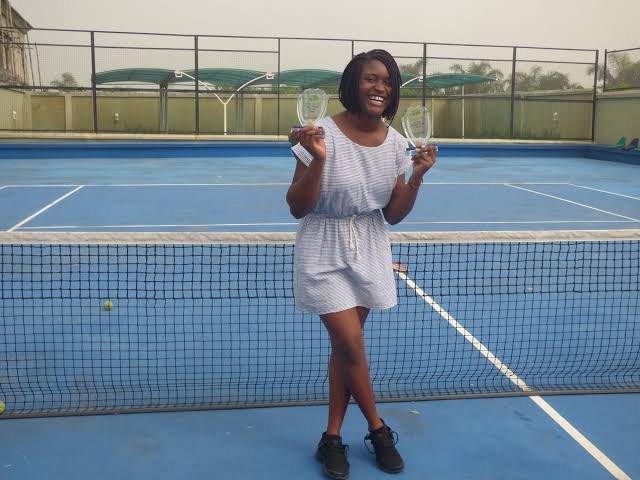 "It was a lot of personal issues for me but I have been working on myself for the past 2 years and I think I am in a better state of mind to compete.
"My aim is to win the title again for the 3rd time but I am going to stay focused and be prepared.
READ ALSO: Where Is Sarah Adegoke?
"Yes, I cannot really know for sure until I get on the competition ground. But physically and mentally, I think I am ready, hopefully, I can replicate that on the court.
"I probably will be an underdog, I am not sure if I am going to get a wildcard. My mindset now is that I am going to be playing in the qualifiers.
"I am ready for anything. Playing in the qualifiers will give me a lot confidence going into the Main Draw and having a wildcard will be easier for me, less stressful for me, but I am mentally ready for anything," Adegoke explained.
On the possibility of playing against Quadre who's the only winner of the competition since she last played, Adegoke says she relishes rhe opportunity.
She said: "To play her will be very interesting, it is something I am looking forward to. She is a very young player and she has been doing well these past couple of years and honestly I adore her game on and off the court.
"So, sharing the court with her will be a dream come through for me because right now, she is on fire and I would like to play the person who's on fire."
The competition kicks off on Friday, 4 November, 2020 and ends on Saturday, 14 November, inside the Package B (Tennis Section) of the National Stadium, Abuja.
Nigeria Tennis Live will ensure a proper coverage of the tournament which is in its 42nd year.
Tagged:
CBN Open
Central Bank of Nigeria Open
National Title
Oyinlomo Quadre
Sarah Adegoke