CBN Open: Sarah Adegoke, Serena, Phillips Get Wild Card (Full List)
Sarah Adegoke tops the list of Nigerian players who have a wild card to play at this year's Central Bank of Nigeria (CBN) Tennis Championship.
Nigeria Tennis Live can authoritatively report that the former Nigerian number one female tennis player has been granted this waiver by the Nigeria Tennis Federation (NTF) to play from the main draw of the competition.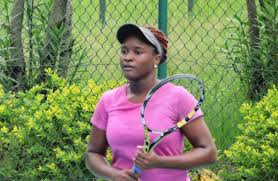 Recall that she recently bounced back after a two-year hiatus from the local scene following injuries and personal issues.
The Ibadan-based player also mentioned that she has her sights set on the championship this year, even though she's only just returning.
Fuethermore, the former Rainoil Tennis Masters winner will relish the opportunity of playing against Nigeria's top player, Oyinlomo Quadre, at any point in the tournament.
The NTF President, Engr. Ifedayo Akindoju, has now confirmed the two-time winner's inclusion among the players with a wild card for the 42nd edition of the annual event.
In a brief phone conversation with Nigeria Tennis Live, the President of the NTF said: "For the female, we have Serena Teluwo, Sarah Adegoke, Marylove Edwards and Toyin Asogba.
"While for the male, we have Canice Abua (the boy who won the J5 in Abuja last year, Abayomi Phillips, Emmanuel Jebutu and Mukhtar Andu."
The preliminary stage of the competition kicks off on Friday, 6 November, 2020 while the Main Draw players will wait for Monday, 9 November, to taste action.
Nigeria Tennis Live will be monitoring activities at the Tennis Section (Package B) of the National Stadium, Abuja, and report all the updates.
Tagged:
Abayomi Philips
Andu Mukhtar
Canice Abua
Emmanuel Jebutu
Engr. Dayo Akindoju
Marylove Edwards
NTF President
Sarah Adegoke
Serena Teluwo
Toyin Asogba
Wild Cards