Asogba, Yakubu Sisters Shine In Virtual Tennis Academy Tourney
Oiza Yakubu and her sister, Nene, were in their elements but could not do enough to save their team at the just concluded competition organized by the US-based Virtual Tennis Academy.
Both players who are in the competition's Group C starred for their teams at the tournament which was held in Lagos on Thursday and Friday, January 21 & 22.
Results made available to Nigeria Tennis Live showed the dominance of Nene on the first day of the competition.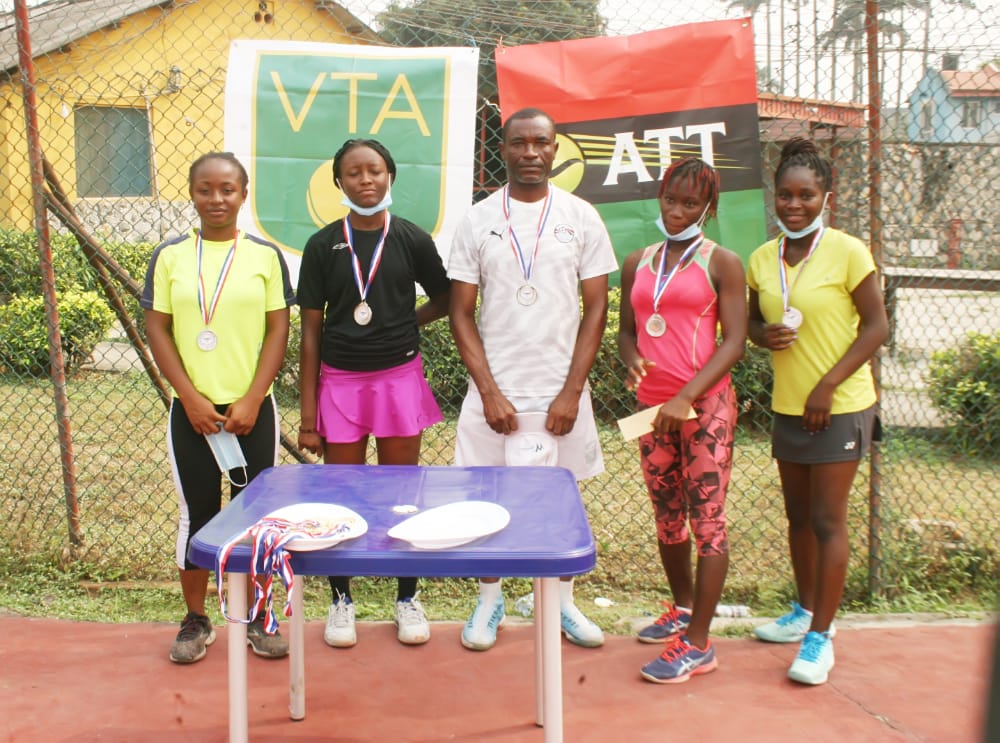 Toyin Asogba( Team B) battled to defeat Blessing Otu (Team C) 7-5, 6-2 while Nene (Team C) salvaged a win for her team with a 6-3, 7-6 (5) win over national junior star, Rebecca Ekpenyoung.
Team A's Jumai Muhammad crushed Peace Udoh, her opponent from Team B in a 6-1,6-4 game just as Mariam Balogun overcame a stubborn Team C opponent in Ozi-Oiza Yakubu with a 4-6, 7-6 (4),10-8 win, to continue the dominance of Team A.
In final Singles match of the first day, Theresa Otu (Team B) overpowered Olamide Aluko (Team C) with a 1-6, 6-4, 11-9 win
In the Doubles event, Nene partnered Otu to beat the Team A pair of Destiny Okhnaiye/Faith Ameh(Team A) 8-5 while Rebecca Ekpenyoung and Asogba of Team B got the better of Jumai Muhammed/Mariam Balogun (Team A) in a 8-6 game.
In the final game of the day, Oiza and Olamide were the better pair on the day, winning 8-4, against the duo of Peace Udoh /Theresa Otu.
Day 2:
On the second and final day of the tournament, the players were already familiar with each other, but the results were still interesting.
Destiny Okhinaye thrashed Blessing Otu 6-1, 6-3, Ohunene Yakubu outplayed Faith Ameh in a 6-4, 6-2 win while Jumai Muhammad vs Olamide Aluko ended 6-2, 6-2.
Ameh lost her second consecutive game of the second day as Asogba beat her 6-0, 6-3 just as Rebecca Ekpenyoung bested Destiny Okhinaye with a 6-0, 6-4 triumph.
Ozi-Oiza Yakubu shone brilliantly in her match against Peace Udoh with a seamless 6-2, 6-3 win while Theresa Otu was helpless in a 0-6, 0-6 loss to Mariam Ali Balogun.
In the Doubles, Jumai Muhammad and Mariam Ali Balogun ousted the pair of Ozi-Oiza Yakubu and Olamide Aluko in an 8-4 win just as Destiny Okhinaye paired Faith Ameh to thrash Peace Udoh and Theresa Otu 8-1.
In the final doubles tie, Rebecca Ekpenyoung and Toyin Asogba were made to work hard for their win against Ohunene Yakubu/ Blessing Otu. The match ended 8-6.
Having collated the results, Team A emerged as overall winner of the tournament, Team B runner up and Team C placed 3rd.
Tagged:
Nene Yakubu
Oiza Yakubu
Rebecca Ekpeyong
Toyin Asogba
Virtual Tennis Academy