Udoffa, Adeleye, Yakubu Are Biggest Winners At AZIMUTH Championships Grand Finale (FULL LIST OF WINNERS)
Mary Udoffa probably emerged as the biggest winner at the just concluded AZIMUTH Shipping Lines Limited Junior Tennis Championship which climaxed at the tennis section of the National Stadium, Surulere, Lagos over the weekend.
The Kogi-born youngster was relentless in her match against Serena Teluwo, another powerful opponent, who showed immense determination in a bid to win big at the competition.
Udoffa whose shoulder dropped a couple of times during the final match watched by many dignitaries at the centre court of the tennis section, stood up where it mattered the most to defeat her friend and counterpart in a final set which ended 6-4, 1-6, 10-7.
Her celebration after the match explains how grateful she was for the win.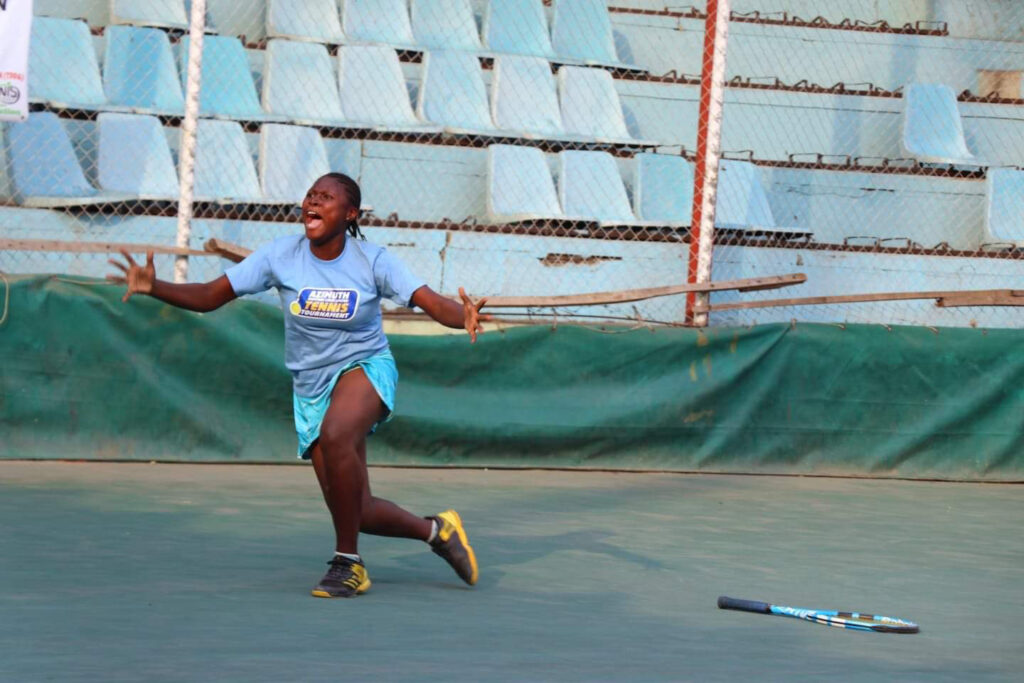 In the boys 16 final match, Daniel Adeleye from Ekiti State came out tops after a tough battle against David Ekpeyong.
It was a sheer battle of character and mental toughness during the match which evoked a lot of emotions from supporters of both players who kept urging them on.
At the end of the day, it was the experience and toughness of Adeleye that saw him emerge victorious in a match which was somewhat beyond his grip. He won 3-6, 6-3, 12-10.
In the boys 14 juniors, Ganiyu Mubarak proved his mettle against Oluwaseun Ogunshakin, who was hoping to fight for a first crown in that category.
It didn't take too long for Mubarak who recently returned from Togo to defeat the budding sensation in two straight sets of 7-5, 6-2.
Power playing Nene Yakubu also made light her match against Salamatu Haruna, winning in two sets of 6-1, 6-2 to clinch the Girls 14 title while Mohammed Khadijat fell short when she came up against Success Ogunjobi in the Girls 12 final. The latter won the match 7-6, 6-4.
Elisha Kwange also proved to be a tough player when he defeated India's Satyam Maurya in two straight sets of 6-4, 6-4 to emerge as champion in the Boys 12 category.
In his closing remarks, Captain Martins Owolabi, the MD/CEO AZIMUTH Shipping Lines Limited and sponsor of the tournament, revealed that he will continue supporting junior tennis development in the country.
"This is just borne out of my love for grassroots sport la development, especially tennis, and the desire to see Nigerian players among the best out there.
"We shall continue to do more to discover talents for the sports so that we can attain the heights that we deserve in the sport," he said.
The tournament director, Coach Richard Inyang, was also hailed for his amiable efforts in ensuring a smooth tournament.
"To have a draw of 64, especially for the U-12s, is very commendable, that's a very positive vibe for those who planned this tournament.
"Kudos to the organizers for doing an amazing job with this year's event. Next year will be better, I believe," one of the spectators said.
Tagged:
Azimuth Shipping Lines Junior Tennis Tournament
David Ekpeyong
Elisha Kwange
Junior tennis tournament
Mary Udoffa
Mubarak Ganiyu
Nene Yakubu
Oluwaseun Ogunshakin
Salamatu Haruna
Satya Maruya
Serena Teluwo