SUPER COACH: How Babalola's Pep-talk Helped Ogunshakin Secure Massive Comeback Against Sierra Leone
Legendary Abdulmumin Babalola brought his experience to play when Seun Ogunshakin, one of Nigeria's players at the ongoing African Junior Tennis Championship Qualifiers, was having a torrid time on court.
Nigeria Tennis Live gathered that the player was in a losing position against his Sierre Leonean counterpart in the first set of the match as he was trailing at 4-5.
But a moment of brilliance by the Davis Cup captain ensured that Ogunshakin made an unprecedented comeback and won the first set 7-6.
Pictures obtained by Nigeria Tennis Live showed the passionate tennis icon dishing out tactical advice to his player and the player in turn, appearing very attentive taking in every bit of the counsel by his coach.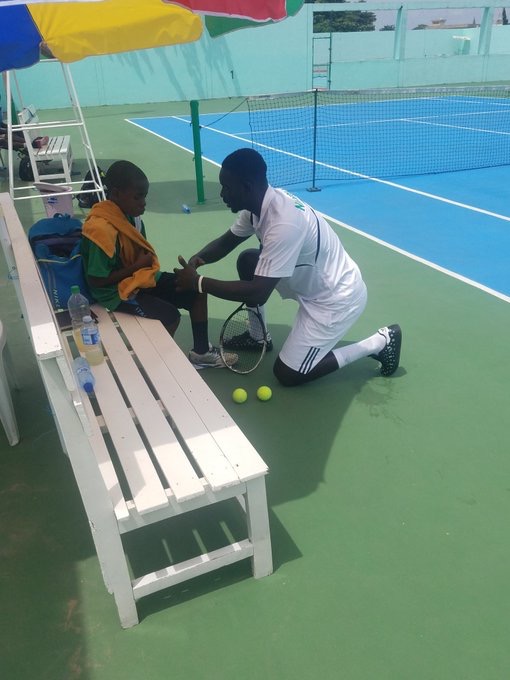 This proved productive for the player as he ended up taking the second set 6-3 as he recorded the first win for Nigeria in the encounter.
As at the time of filing this report, Nigeria's Precious Ikeuba had lost the second Singles. The match ended 5-7, 6-3, 4-6 in favour of Nigeria's opponent.
Nigeria Tennis Live will keep our esteemed followers up to speed with the going ons at the qualifying series presently going on in Cotonou, Benin Republic.
Tagged:
Abdulmumin Babalola
AJC Benin Republic
AJC Qualifiers
AJC Qualifiers 2019
Nigeria Tennis Players
Seun Ogunshakin