She Was On Top Of The Game, Quadre Says After Defeating Adegoke
Sarah Adegoke has been described as a fantastic player even though she lost her semifinal match against Oyinlomo Quadre.
Adegoke was on the ascendancy for most part of the first set in the match which pitted two of Nigeria's finest and in form female players.
But she lost a grip of the game and from a 5-2 lead and a set point down to go, she lost the first set 5-7.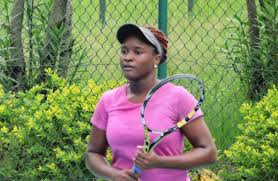 After the match, Quadre had a brief conversation with Nigeria Tennis Live, and revealed how solid her opponent was for most part of the game.
"It was one sided at the beginning of the match.
"I was framing, not moving. She was serving good and playing good.
"Honestly, she was on top of the game, my father brought me back to the game.
"I looked at him and I told myself 'if daddy isn't disappointed or even stressed, why am I making things difficult for myself?'
"I reminded myself what a champ I am and that I just needed to keep fighting," the youngster explained during the brief discussion.
Even though the youngster had been tipped to win the match, she admitted to finding this particular encounter very difficult.
The African number two junior star also explained how she managed to get back into the game in spite of the seeming losing position she occupied from the beginning of the game.
She said: "I was expecting a really tough match due to her good service game in the whole tournament.
"Sometimes you need to remind yourself of how much work you have put, you need to remind yourself that one match isn't going to determine it all."
Tagged:
CBN Open
Oyinlomo Quadre
Sarah Adegoke