Kemi Oluwasegun: Winning Gold At The Sports Festival Helped My Belief
Kemi Oluwasegun, an unprecedented gold medal winner at the recently concluded National Sports Festival in Edo State, is still excited about the feat.
She defeated crowd's favourite and Women's number one Wheelchair Tennis player in Nigeria, in a final set game, to clinch her first ever medal in the sport.
And that win, which came from a player who was denied any chance of moving into the ranking, seems like her biggest win ever.
In a brief chat with Nigeria Tennis Live on the sidelines of the ongoing National Wheelchair Tennis Ranking Competition in Lagos, Kemi noted that she wants to win more tournaments.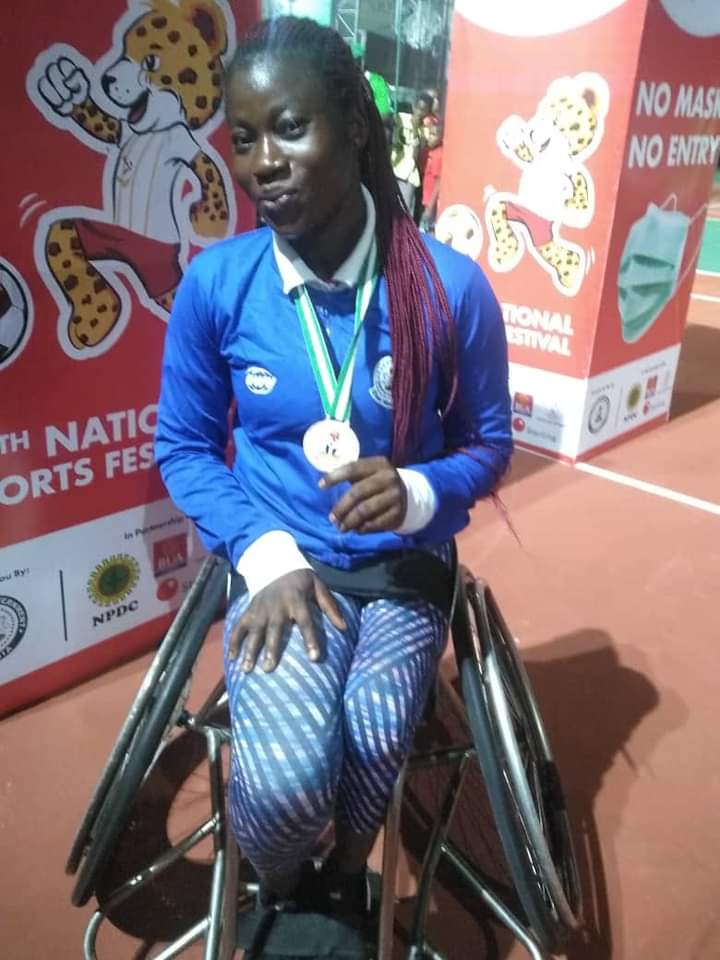 "I felt very very happy winning gold at the Sports Festival," she began.
"I trained really hard, and did not relent, that's probably why I won the gold medal. I believed I could win before the final because I was really prepared for it.
"Winning gold at the Festival has made me believe that I can play in Grand Slams and other major international tournaments," Kemi added.
Speaking on ger chances at the ongoing competition, the 25-year-old model said: "I also believe that I can win the ongoing tournament, I have to defend the gold I won in Edo.
"The same set of players I competed against at the Festival are the same set of players at the tournament, so, there's nothing to be worried about.
"The first tennis tournament I played was in 2018, and it was a ranking tournament. And this same number one defeated me in the first match.
"Ever since, I've not played any other tournament until the National Sports Festival, and I was really ready for it, that was most likely why I won gold."
Asked if she had revenge on her mind, the Wheelchair Basketballer told Nigeria Tennis Live that, even though she didn't want to think about it, it was somewhere.
"I had that revenge somewhere in my mind, that if she could defeat me in my first ever tournament, I should also be able to defeat her.
"I'm grateful to God and everybody who helped me achieve this. And I am looking forward for more achievements," Kemi noted.
The National Wheelchair Ranking Tournament is presently ongoing inside the tennis section of the National Stadium, Surulere, Lagos.
Nigeria Tennis Live will keep our followers updated with the updates from the tournament.
Tagged:
Kemi Oluwasegun
National Sports Festival
Wheelchair Tennis