ITF/CAT AJC Qualifiers: Nigeria's Marylove, Oiza, Mubarak Target Semis Slot In Togo
Reports emanating from Lomé, Togo, confirm that about five Nigerian players are targeting a semifinal slot at the ongoing ITF/CAT West & Central African Junior Championships Qualifiers.
According to Coach Abel Ubiebi, the coordinator of the team to Togo, the five players who have qualified for the quarterfinal of the competition include Marylove Edwards, Oiza Yakubu, Esther Oni, Salamatu Haruna and Ganiyu Mubarak.
Nigeria Tennis Live reports that the players are in high spirits ahead of their encounter and look set to qualify for the next round of the competition.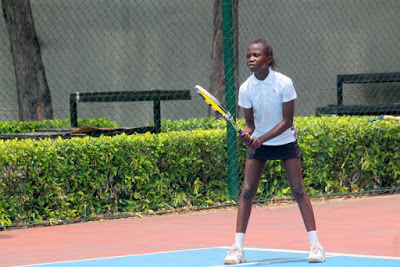 Serena Teluwo is also in contention for a place in the quarterfinal if she wins her match against her opponent on Tuesday, as the competition nears its business end.
The players are gunning to qualify for the World Junior Championships as well as the Junior Davis Cup, the same as players from other countries.
Nigeria Tennis Live can report that all the boys started their first matches at 9am Nigerian time and will need all the goodluck against their counterparts from other countries.
Nigeria, Cameroon, Sierra Leonne, Cote D'Ivoire, Ghana, Benin Republic, Burkina Faso and Togo are some of the African countries competing for major honours in Lome, Togo.
Nigeria Tennis Live will keep up with reports from the competition and Nigerians' progress in the week long event.
Tagged:
Esther Oni
Junior tennis tournament
Marylove Edwards
Mubarak Ganiyu
Oiza Yakubu
Salamatu Haruna
Serena Teluwo