Is AZIMUTH Championship Nigeria's Biggest Juniors Currently?
For four years now, Nigerian junior tennis players have been toasted with the AZIMUTH Shipping Lines Junior Tennis Championship, and it always surpasses the previous edition each new season.
The buzz, frenzy and the honest reactions of players, coaches and parents when they speak about the event do not go unnoticed, and this is evident in how seriously people take the competition.
For instance, for this year's edition, the players from Akwa Ibom flew to Lagos for the competition (which pays Education Grants and gives prizes to winners, runners-up, semi-finalists and quarter-finalists), and touched down at the airport on Sunday, more than 24hours before commencement of the championship, a development (taking flights) which is not so common even with senior national tournaments that pay huge prize monies.
This dedication to the developmental competition holding, this year, at the Lagos Lawn Tennis Club, Onikan, Lagos, makes it inevitable to ask if it would be out of place to dub the tourney Nigeria's biggest junior championship at the moment.
Captain Stephen Owolabi Martins, the MD/CEO of AZIMUTH Shipping Lines Limited and sponsor of the competition, has always spoken glowingly about wanting to make the tournament even bigger every year and he has made true his promises.
For the past three years, the sponsor has increased the prize money for education grants. From N40,000 to N50,000 and now N100,000, and this grant for winners and runners-up, is for all age categories, from 12, 14 and 16 & Unders.
One of Nigeria's most prestigious junior competitions, the Central Bank of Nigeria (CBN) junior tennis championship, has been a hub to discover new and incredible talents over the past few decades, and has lived up to this billing too, but with the recent drive and force behind the AZIMUTH Championship, a new era may be on the horizon.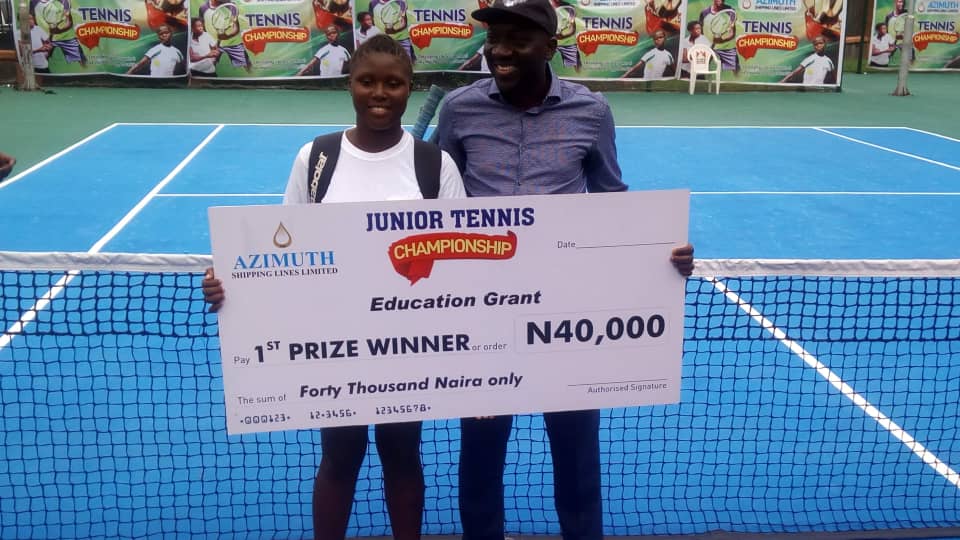 For example, if the organizers of the AZIMUTH competition spent N4million on the 2020 episode of the event, they would have spent about double that amount to ensure that the 2022 edition is even better than the previous editions of the championship.
"Someone just called me to tell me that this tournament has to be Nigeria's junior grand slam," a tennis enthusiast who preferred anonymity, had told one of the organizers in the build up to this year's edition.
But could there be more reasons for the continuous sponsorship of this annual competition other than Captain Owolabi's passion for tennis and his desire to see tennis grow in Nigeria?
"He's someone that is happy when others around him are happy, and he just wants to support and encourage up and coming stars in his own little way," a close associate of the sponsor stated.
And rightly so, many youngsters have won their first rackets and other gift items at the annual championship, and it has also given them a junior tournament to look forward to, and participate in.
Tennis players' parents also play prominent roles in ensuring that the tournament is devoid of age cheat situations, a 'pandemic' which has bedeviled junior competitions in Nigeria from time immemorial.
"If you take your players to AZIMUTH, they will definitely play their ages and you'll be able to judge their performance fairly, as against other competitions where they just pack everybody into them because they want certain persons to win," one of Nigeria's junior coaches had said during the 2021 National Youth Games in Ilorin, where age cheat was a huge challenge.
It is therefore not surprising that players from across the federation do all they can to participate in the age grade championship, with a view to making their marks, and step on to bigger achievements in their careers.
Starting from Monday, 10 January, 2022, no fewer than 200 players from more than 20 states of the federation, will swarm the premises of the Lagos Lawn Tennis Club, Onikan, Lagos, to register, and participate in the 4th AZIMUTH Shipping Lines Limited Junior Tennis Championship.
Nigeria Tennis Live, the official media partner for the competition, will be updating our followers on the latest happenings at the tournament.
Tagged:
Azimuth Shipping Lines Junior Tennis Tournament
Captain Owolabi Martins
Junior tennis tournament