Imeh Returns As No 1 In New NTF Rankings (FULL LIST)
The newly released national players' rankings released by the Nigeria Tennis Federation (NTF) has seen Joseph Imeh return to the summit as the number one player in the country.
Imeh displaced Sylvester Emmanuel from the top spot for the first time in over a year, having won the coveted Central Bank of Nigeria (CBN) Open Tennis Championship, and may now surely end 2020 as Nigeria's number one star.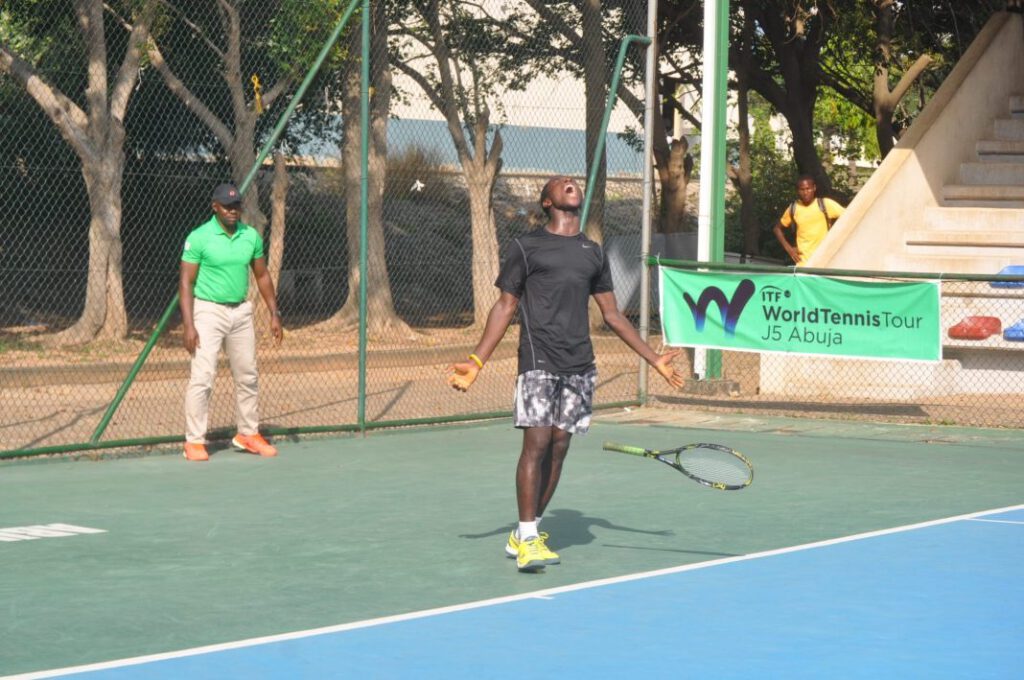 The biggest move on the log would be Musa Mohammed, the Abuja-based youngster who shocked the whole country with her amazing performances during the last CBN Open tournament in Nigeria's Federal Capital.
In the female category, Oyinlomo Quadre continued her dominance, and now leads her closest counterpart with over 500 points.
Marylove Edwards who made it to the finals of the CBN Open was also a big mover on the rankings made exclusively available to Nigeria Tennis Live on Wednesday night.
Below are the players' rankings in the Singles and Doubles:
NATIONAL RANKINGS AS AT NOV 23RD 2020
MEN'S SINGLES
| | | | |
| --- | --- | --- | --- |
| RANKING | FAMILY NAME | FIRST NAME | POINTS |
| | IMEH | JOSEPH | 700 |
| | EMMANUEL | SYLVESTER | 545 |
| | MOHAMMED | MUSA | 215 |
| | MADUEKE | NONSO | 211 |
| | OPARAOJI | UCHE | 208 |
| | IDOKO | EMMANUEL | 165 |
| | OTU | THOMAS | 113 |
| | AJANG | SYLVANUS | 108 |
| | CHIMA | MICHEAL | 95 |
| | ADEHI | OCHE | 86 |
| | ILOPUTA | IKECHUKWU | 83 |
| | GODGIFT | TIMIBRA | 81 |
| | LAWAL | PETER | 74 |
| | PAUL | CHRISTIAN | 67 |
| | SHEHU | LAWAL | 60 |
| | ENOSOREGBE | CLIFFORD | 60 |
| | BIKOM | ALBERT | 40 |
| | PAUL | EMMANUEL | 40 |
| | ATTAH | ISSAC | 38 |
| | IYOROVBE | JOSEPH | 37 |
| | GABRIEL | FRIDAY | 35 |
| | BALA | MUSA | 35 |
| | MICHEAL | AMBROSE | 33 |
| | UWANDU | CHARLES | 32 |
| | EZEH | TOCHUKWU | 29 |
| | DICKSON | JOHN | 25 |
| | LEO | EMMANUEL | 25 |
| | DANIEL | JOSHUA | 25 |
| | JOHN | HENRY | 24 |
| | OKECHUKWU | MICHEEAL | 21 |
| | BABALOLA | ABDULMUMUNI | 20 |
| | IKAKAH | EMMANUEL | 20 |
| | IGBINOVIA | WILSON | 20 |
| | IDRIS | ALIU | 19 |
| | ODEYEMI | OPEYEMI | 19 |
| | HASSAN | JIBRIL | 18 |
| | OYELAMI | OJO | 18 |
| | EHIGAMUSOE | ENDURANCE | 18 |
| | SULEIMAN | IBRAHIM | 16 |
| | PAUL | LINUS | 15 |
| | DAWARIYE | DAVID | 15 |
| | ABAMU | MATTHEW | 14 |
| | OSHEWA | MICHEAL | 13 |
| | IWUAGU | CHINEDU | 13 |
| | SANNI | MUSA | 13 |
| | LEO | ANTONY | 12 |
| | OBEKPA | ANTONY | 12 |
| | ITODO | CHRISTOPHER | 12 |
| | AYOOLA | MICHEAL | 11 |
| | SUNDAY | EMMANUEL | 10 |
| | JEBUTU | EMMANUEL | 10 |
| | MUSA | YAHAYA | 10 |
| | AMINU | ABDUL | 10 |
| | KUSHIMO | USMAN | 10 |
| | OLAWOLU | KAYODE | 9 |
| | AUGUSTINE | STEPHEN | 9 |
| | ADESHINA | ISMIALA | 9 |
| | ODEYEMI | AYOBAMI | 8 |
| | ADEWALE | SAMSON | 8 |
| | UDOFA | ETIDO | 8 |
| | DICKSON | SIMON | 7 |
| | ADEBISI | AYORINDE | 7 |
| | MADUEKE | KINGSLEY | 7 |
| | EMERUWA | ISAAC | 7 |
| | KWANGE | PETER | 7 |
| | PHILIP | ABAYOMI | 7 |
| | EZENWOKO | EBUKA | 5 |
| | MUKTHAR | ANDU | 5 |
| | ABUA | CANICE | 5 |
| | TORIOLA | ISIAKA | 4 |
| | IHESIE | JOHN | 4 |
| | OGBU | RICHARD | 4 |
| | ADELEYE | EZEKIEL | 4 |
| | AJAYI | AYOBAMI | 4 |
| | JOSEPH | JOLLY | 4 |
| | THOMAS | TOBI | 4 |
| | CHIBUZOR | ONYEKWELU | 4 |
| | CHIWENDU | BENJAMIN | 3 |
| | MICHEAL | AMOS | 3 |
| | BADMUS | KAREEM | 3 |
| | TROMBI | FILLIPO | 3 |
| | OKONKWO | DAVID | 3 |
| | CHEKWUBE | OJOBO | 3 |
| | PIUS | LAWRENCE | 2 |
| | OSINACHI | ERNEST | 1 |
| | | | |
NATIONAL RANKING AS AT NOV 23RD 2020
WOMEN'S SINGLES
| | | | |
| --- | --- | --- | --- |
| RANKING | FAMILY NAME | FIRST NAME | POINTS |
| | QUADRI | OYINLOMO | 850 |
| | AYEGBUSI | AANU | 275 |
| | AGUBOM | CHRISTIE | 265 |
| | SAMUEL | BLESSING | 190 |
| | EDWARDS | MARYLOVE | 165 |
| | ONEBANHION | PATIENCE | 160 |
| | ARIHUNWUNDE | OSARIEME | 151 |
| | AKINGBADE | RONKE | 125 |
| | BAMIDELE | OMOLAYO | 94 |
| | ADEGOKE | SARAH | 90 |
| | ADEREMI | OMOLADE | 72 |
| | DONATUS | LOVETH | 71 |
| | UDOKWELU | STELLA | 71 |
| | ANUNA | BLESSING | 68 |
| | OZURUMBA | OLUCHI | 60 |
| | ARE | BUNMI | 57 |
| | NWANKWO | CHRISTIE | 55 |
| | OLOWU | BUKOLA | 46 |
| | NWOKOLO | AMALA | 45 |
| | ADEWUSI | JESUTOYOSI | 45 |
| | UDOFA | MARY | 40 |
| | ASOGBA | TOYIN | 37 |
| | FASHANU | TEMITOPE | 31 |
| | OMOTAYO | BLESSING | 27 |
| | YAKUBU | OIZA | 25 |
| | MOHAMMED | JUMAI | 23 |
| | TENU-MICHEAL | MARY | 22 |
| | AMADASUN | ABIES | 20 |
| | YAKUBU | OHUNENE | 20 |
| | SUNDAY | JOY | 19 |
| | DAJUMA | BLESSING | 18 |
| | SUNDAY | FAITH | 18 |
| | OSHEWA | OMOTAYO | 17 |
| | DIRISU | NGOZI | 15 |
| | ODEYEMI | RAMOTA | 15 |
| | TELUWO | SERENA | 15 |
| | SALAMI | KHADIJAT | 14 |
| | ADUNOYE | RACHAEL | 12 |
| | HARUNA | SALAMATU | 12 |
| | OTU | BLESSING | 12 |
| | OGUNSHOLA | FOLASHADE | 9 |
| | AKOSILE | AFOLARIN | 8 |
| | MOSES | FAVOUR | 7 |
| | EBIJIMI | PAULINE | 7 |
| | ALUKO | OLAMIDE | 7 |
| | ANIEGBU | OGECHI | 7 |
| | | | |
| | | | |
| | | | |
NATIONAL RANKING AS AT NOV 23RD 2020
MEN'S DOUBLES
| | | | |
| --- | --- | --- | --- |
| RANKING | FAMILY NAME | FIRST NAME | POINTS |
| | IMEH | JOSEPH | 311 |
| | SHEHU | LAWAL | 222.5 |
| | BIKOM | ALBERT | 212.5 |
| | PAUL | CHRISTIAN | 152.5 |
| | BABALOLA | ABDULMUMUNI | 127.5 |
| | ILOPUTA | IKECHUKWU | 125 |
| | IYOROUVBE | JOSEPH | 124.5 |
| | OPARAOJI | UCHE | 115 |
| | MOHAMMED | MUSA | 110 |
| | GODGIFT | TIMIBRA | 105 |
| | EMMANUEL | SYLVESTER | 95 |
| | MADUEKE | NONSO | 87 |
| | ADEHI | OCHE | 85 |
| | IDOKO | EMMANUE;L | 81.5 |
| | JOHN | HENRY | 63.5 |
| | PAUL | LINUS | 56 |
| | ENOSOREGBE | CLIFFORD | 55 |
| | UWANDU | CHARLES | 55 |
| | IKAKAH | EMMANUEL | 55 |
| | EZEH | TOCHUKWU | 52.5 |
| | DICKSON | JOHN | 45 |
| | PHILIP | ABAYOMI | 45 |
| | MIICHEAL | CHIMA | 42.5 |
| | GABRIEL | FRIDAY | 40 |
| | OUT | THOMAS | 36 |
| | AKINWUNMI | TOSIN | 36 |
| | MAXWELL | KESIYE | 36 |
| | ATTAH | ISAAC | 31 |
| | EHIGAMUSOE | ENDURANCE | 30 |
| | PAUL | EMMANUEL | 30 |
| | MICHEAL | AMBROSE | 28.5 |
| | SUNDAY | EMMANUEL | 27.5 |
| | MARAKINYO | RIDWAN | 27.5 |
| | AUGUSTINE | STEPHEN | 25 |
| | IDOKO | ANDREW | 23.5 |
| | OSEWA | MICHEAL | 21 |
| | AJANG | SYLVANUS | 20 |
| | NDAGANA | MUSA | 20 |
| | IDRIS | IBRAHIM | 19 |
| | HASSAN | JIBRIL | 18.5 |
| | ADEWALE | SAMSON | 17.5 |
| | OKECHUKWU | MICHEAL | 17.5 |
| | AKAGHA | SAMUEL | 17.5 |
| | CHIBUZOR | ONYEKWELU | 17.5 |
| | OLAWOLU | KAYODE | 15 |
| | OGUNSHAKIN | AKINWUNMI | 13.5 |
| | LEO | ANTONY | 13.5 |
| | OMODARA | AYODEJI | 13.5 |
| | OKONKWO | DAVID | 13.5 |
| | ADELEKAN | GANIYU | 12.5 |
| | ABAMU | MATTHEW | 12.5 |
| | ADAMU | SANI | 10 |
| | BALA | MUSA | 10 |
| | ALI | ISA | 10 |
| | ALI | IBRAHIM | 10 |
| | ITODO | CHRISTOPHER | 10 |
| | ABIODUN | TOSIN | 8.5 |
| | IDRIS UMAR | ALIU | 8.5 |
| | OBEKPA | ANTHONY | 7.5 |
| | OSAKWE | GEORGE | 7.5 |
| | SANI | MUSA | 5 |
| | JEBUTU | EMMANUEL | 5 |
| | DAVID | JOHN | 5 |
| | MOHAMMED | SADIQ | 5 |
| | SANI | YAO | 5 |
| | ADEBISI | AYORINDE | 5 |
| | IGBINOVIA | WILSON | 5 |
| | ABDULMALIK | KABIRU | 5 |
| | TOSHO | YUSUF | 5 |
| | KUSHIMO | USMAN | 5 |
| | LEO | EMMANUEL | 5 |
| | BADMUS | KAREEM | 4 |
| | AYOOLA | MICHEAL | 3.5 |
| | OWOLABI | TAIWO | 3.5 |
| | OYELAMI | OJO | 3.5 |
| | IBIWOYE | OLANIYI | 3.5 |
| | ODEYEMI | OPEYEMI | 3.5 |
| | SAVAGE | KAYODE | 3.5 |
| | MUSA | BRAIMO | 3.5 |
| | MESAGBO | SOLOMON | 3.5 |
| | GANIYU | SALAMI | 3.5 |
| | OGBU | RICHARD | 3.5 |
| | ODEYEMI | AYOBAMI | 3.5 |
| | IWUAGU | CHINEDU | 3.5 |
| | ADESHINA | ISMAILA | 3.5 |
| | MOSES | PAUL | 3.5 |
| | ODEY | AUSTINE | 3.5 |
| | JOSEPH | JOLLY | 3.5 |
| | RAYMOND | LUMAS | 3.5 |
| | WAHEED | IBRAHIM | 3.5 |
| | | | |
NATIONAL RANKINGS AS AT NOV 23RD 2020
WOMEN'S DOUBLES
| | | | |
| --- | --- | --- | --- |
| RANKING | FAMILY NAME | FIRST NAME | POINTS |
| | QUADRI | OYINLOMO | 300 |
| | BAMIDELE | OMOLAYO | 250 |
| | TELUWO | SERENA | 132.5 |
| | AGUBOM | CHRISTIE | 110 |
| | SAMUEL | BLESSING | 100 |
| | AIRUNHUNDE | OSARIEMEN | 95 |
| | AYEGBUSI | AANU | 95 |
| | ADEUSI | JESUTOYOSI | 75 |
| | OZURUMBA | OLUCHI | 60 |
| | TENU-MICHEAL | MARY | 50 |
| | SALAMI | KHADIJAT | 47.5 |
| | ADEGOKE | SARAH | 45 |
| | FASHANU | TEMITOPE | 42.5 |
| | ODEYEMI | RAMOTA | 42.5 |
| | AKINGBADE | RONKE | 42.5 |
| | ANUNA | BLESSING | 42.5 |
| | ARE | BUNMI | 42.5 |
| | ONEBAMHOIN | PATIENCE | 40 |
| | NWANKWO | CHRISTIE | 40 |
| | DONATUS | LOVETH | 32.5 |
| | OSEWA | OMOTAYO | 27.5 |
| | ALABI | GRACE | 25 |
| | UDOKWELU | STELLA | 22.5 |
| | AMADASUN | ABIES | 22.5 |
| | DIRISU | NGOZI | 22.5 |
| | MOHAMMED | JUMAI | 22.5 |
| | ADUNOYE | RACHEAL | 22.5 |
| | ABU | ROSE | 20 |
| | ASOGBA | TOYIN | 20 |
| | SALAMI | MARIAM | 20 |
| | YAKUBU | OIZA | 17.5 |
| | OLOWU | BUKOLA | 17.5 |
| | DANJUMA | BLESSING | 15 |
| | SUNDAY | FAITH | 15 |
| | ALUKO PRINCESS | OLAMIDE | 15 |
| | ALI BALOGUN | MARIAM | 15 |
| | ADEREMI | OMOLADE | 12.5 |
| | NWOKOLO | AMALA | 12.5 |
| | YAKUBU | OHUNENE | 10 |
| | OTU | BLESSING | 10 |
| | AKOSILE | AFOLARIN | 7.5 |
| | ANIEGBU | OGECHI | 7.5 |
| | IGWE | OLUCHI | 7.5 |
| | UMEH | UJUNWA | 7.5 |
| | OGUNSHOLA | FOLASHADE | 5 |
| | MOSES | FAVOUR | 5 |
| | BELLO | RAHIMA | 5 |
| | | | |
| | | | |
Tagged:
Joseph Imeh
Musa Mohammed
National Ranking
NTF Rankings
Oyinlomo Quadre