ICYMI: Breakdown Of CBN Senior Tennis Open Prize Money (1st Round-Final)
Many tennis enthusiasts in the country are quite aware of the ongoing Central Bank of Nigeria (CBN) Senior Tennis Open, and are getting the updates too. But not many can boast of the breakdown of the prize money.
The 41st edition of arguably Nigeria's biggest national tournament is holding at the package B of the National Stadium, Abuja, and is already in the next phase of the competition for the men and women single events.
Even though it is common knowledge that the winners in the men and women's singles events will pocket N700k each, it is not everyone who can boast of the amount each person gets for every other stage of the tournament where they crash out.
Like many other sports, the winner gets the bulk of the money, but everyone becomes a winner at every stage of the competition, even if one loses out in the first round.
Nigeria Tennis Live has obtained a document showing the breakdown of the prize money; from the men's singles to the women's doubles.
Top national stars like the legendary Abdulmumin Babalola, Sylvester Emmanuel, Christie Agugbom, Joseph Imeh, Blessing Samuel, among others, will battle really hard for the eventual prize money.
While some top players may be lucky to leave the tournament with as much as N1million or even more, some of the top players get booted out in the early stages of the competition.
Nigeria Tennis Live will keep up with updates from the competition as it progresses and inform our teeming followers.
Check out the breakdown of the prize money below: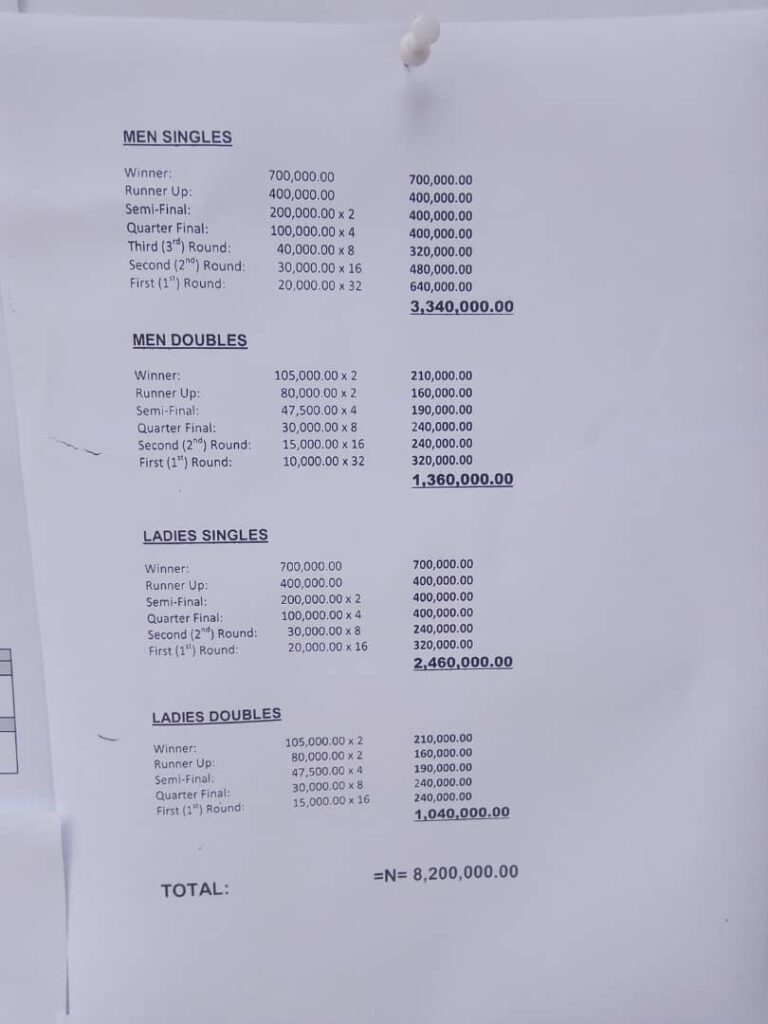 Tagged:
41st CBN Open
Abuja
National Stadium
National Tournaments
Prize Money
Senior CBN Open