Ekpenyong Wins First J100 Doubles Title On Clay, Battles Spaniard In Singles Final
David Ekpenyong has won his first J100 Doubles title on clay court at the ongoing ITF J100 event in Mexico, Nigeria Tennis Live has learnt.
The 17-year-old teenager partnered with Bulgaria's Roben Gavani in the doubles to defeat the pair of Andrew Delgado from the USA and Santiago Ledesma from Mexico, in two straight sets. They won 6-2, 7-6(5).
Ekpenyong is also in the final of the clay court competition as he now has to battle for his first ever J100 final on clay court having overcome the tournament's number eight seed, Abhishek Thorat from the USA in a three-set thriller ending with a 6-2, 2-6, 6-4 scoreline.
READ ALSO: Where Does Ekpenyong Rank Among Top 10 African Players?
The final of the J100 Zapopan will now be between the Nigerian and Bernardo Munk Mesa, the Spanish player who has been outstanding all week.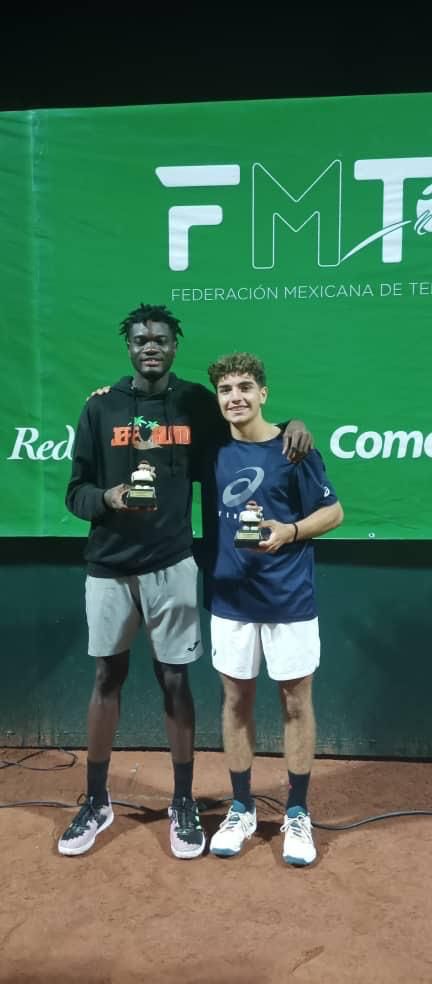 Mesa upset the competition's number one seed in the quarterfinal and also dismissed his semis opponent, ending both matches in epic three sets.
With the tournament's number five player known for his resilience charging into the final, it is left for the Nigerian wiz kid to dig deep to square up against his opponent in the 'banana peel' encounter.
READ ALSO: Impressive Ekpenyong Is Nigeria's New Number One Player (FULL RANKINGS)
Victory for Ekpenyong will see him win an unprecedented back-to-back J100 events having recently shown the world what stuff he is made of in Ghana.
Nigerians, who have been excited by his recent wins, will be rooting for their number one male tennis player during the match which takes place later tonight.
Goodluck, Mr. Lanky!
Tagged:
David Ekpenyong
J100 Title
Mexico
Zapopan