Can Joseph Imeh Finally Win The CBN Open This Year?
For the past five years or more, one of the most prominent names in Nigerian tennis is Joseph Imeh. He has been one of the most outstanding players in the country.
In 2017, he played in the finals of the Central Bank of Nigeria (CBN) Open and lost to the legendary Abdulmumin Babalola.
Imeh made the cut to represent Nigeria at the Davis Cup shortly afterwards, starring in a team which had Babalola, Sylvester Emmanuel and Clifford Enosoregbe, even though could not secure promotion for the Nigerian side.
The former South Africa-based tennis prodigy would later become the Nigerian number one player without winning any national tournament, arguably the first to attain this.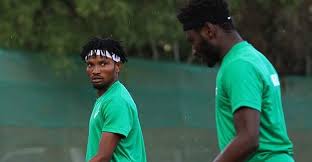 He has since gone ahead to win the Ikoyi Masters, Rainoil Open and Dala Hard Court events, after what was a turnaround year for him.
While expectations of him were high at the 2019 Lagos Open Tennis Championship, the Nigerian number two star retired in both legs of the ITF Futures event, a situation which caused serious worry among the tennis fans who were looking forward to a spectacular performance.
Alongside Sylvester, Imeh remains one of the most consistent players on the Nigerian circuit for over half a decade now.
And if there is a better time to win the elusive CBN Open, the impeccable and highly eventful 2020 may just be that year when he is added to the list of winners of the competition.
As all eyes will be on the the CBN Open event in Abuja which serves off this weekend, with the qualifiers, Imeh remains one of the players expected to rise to occasion and win one of Nigeria's most prised competitions.
Will be finally be crowned the King of CBN Open?
Tagged:
Abdulmumin Babalola
Abuja
CBN Open
Central Bank of Nigeria Open
Dala Hard Court Kano
Enosoregbe Clifford
Joseph Imeh
Sylvester Emmanuel
Vemp Open