BREAKING! Ekpenyong Beats Nikola Jovic, Wins First-ever J100 Event
David Ekpenyong has gotten his revenge against Nikola Jovic from Serbia and has won the J100 tournament in Accra, Ghana.
The Nigerian player, seeded three for the tournament, defeated the number two seed in a three-set thriller to win his first ever J100 event in the capital city of Ghana.
READ ALSO: Where Does Ekpenyong Rank Among Top 10 African Players?
With this result, the Nigerian number one player has now successfully defeated the player who denied him a J100 title a week ago and has written his name as one of the best junior African players around.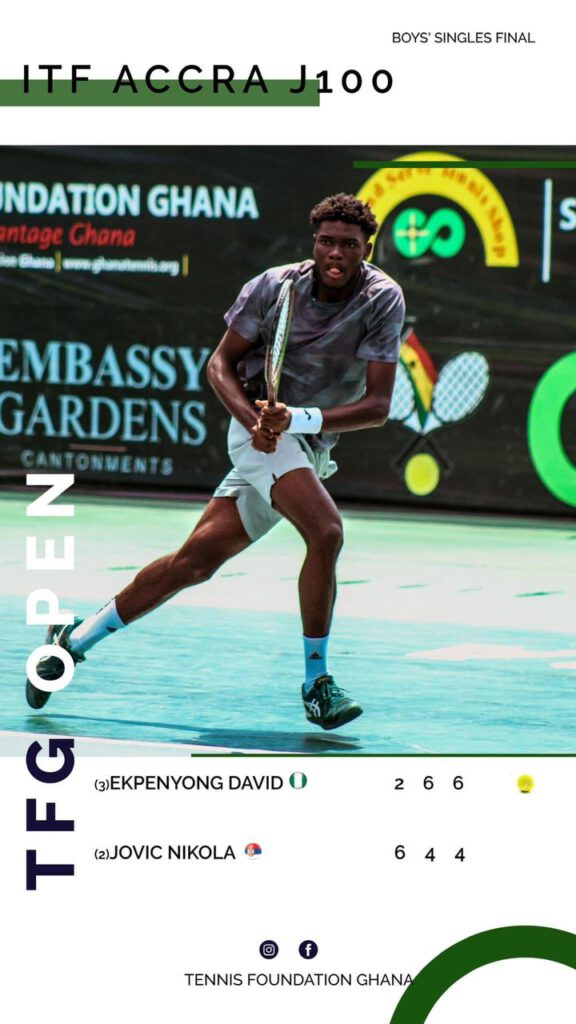 Ekpenyong beat Jovic 2-6, 6-4, 6-4 in a fiercely contested competition on Saturday afternoon to loud cheers from the tennis fans who came to watch the epic action between two players who have now formed a sort of rivalry.
Recall that the current CBN Open Champion was also responsible for the defeat of the tournament's number one seed to reach the final of the J100 event for the third consecutive time.
He has now banished the 'losing' ghost in the J100 event after emerging as the runner-up in the previous ones he played – one in Canada and the other in Accra.
Nigerians will be really excited for this Davis Cup player who has continued to show that he has what it takes to play at the highest level of tennis.
Tagged:
David Ekpenyong
J100 Accra
Nikola Jovic