2019 African Games: Who Will Win Nigeria's First Medal In Tennis?
The Nigerian contingent (as at the time of compiling this report), had only won three medals at the ongoing Africa Games in Morocco, even though other (relatively smaller) countries could already boast of more.
In fact, as at Wednesday evening, Egypt was leading the medals' table with a total of eight gold medals while host Algeria followed closely with seven gold medals.
And as it stands, about nine other countries are already on the medals' table as well, including Nigeria, who already bagged a gold and two bronze medals.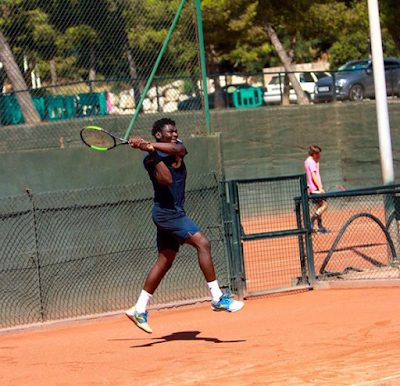 With the racquet game set to kick off on Friday, 23 August, Nigerian tennis followers and observers will be hoping that the crop of stars in the tournament will do well to win the country medals.
With the likes of Sylvester Emmanuel, Joseph Imeh, Thomas Otu and Emmanuel Sunday representing the men, while Blessing Samuel, Oyinlomo Quadre, Aanu Aiyegbusi and US-based Nigerian, Adesuwa Osabuohien flying the women's flag high, it will not be too much of Nigerians to ask for a medal place finish anytime soon.
It will be worthy to note that top African tennis players, some of whom have been the nemesis of Nigerian players in recent past, are also participating in the Games.
Takanyi Garanganga and Benjamin Lock from Zimbabwe, Mahmoud Mohamed and Mostafa Karim from Egypt as well as Alexis Klegou from Benin Republic, are some of the top players participating in the tennis event at the Africa Games.
The Nigerian team complete with Coach Rotimi Akinloye, the head of the Nigeria Tennis Federation (NTF) technical department and National Junior Coach, Abdulmumin Babalola, will hope to get past their opponents and move the country closer to a podium place finish at the competition.
UK-based Elizabeth Pam was the last winner of a medal for the Nigerian team at the Games when she partnered Mellisa Ifidzhen in the women's doubles event to win bronze medal.
The tennis team to this year's tournament will be hopeful that they do better than their previous participation in Congo Brazzaville where the team made a return of 1 silver and 2 bronze medals.
As at the time this report was compiled, the draws for the tennis event had yet to be drawn, however, Nigeria Tennis Live will monitor the activities from the competition closely and report updates on team Nigeria's participation.
Tagged:
2019 African Games
Abdulmumin Babalola
African Games
Joseph Imeh
Morocco 2019
Nigeria Tennis Federation
Nigeria Tennis Players
Oyinlomo Quadre
Rotimi Akinloye
Sunday Emmanuel
Sylvester Emmanuel