Abayomi Philip, Atseye, Aiyegbusi Win First Matches In Dala
Abayomi Philip had little problem securing a second round place at the ongoing Dala Hard Court tournament in Kano after dispatching his opponent in the first round of matches on Monday, 1 November.
The former top junior starlet defeated Sani Walid 6-0, 6-1, to book a place in the second round of the tournament.
Unlike Philip, former national champion, Henry Atseye, was not so lucky in his match, however, as he had to dig deep against budding sensation, Michael Chima.
Atseye, a former Rainoil Open champion defeated Chima in a final set encounter which ended 4-6, 7-6(3), 6-3 before heaving a sigh of relief. He had escaped a major banana peel ahead of other matches.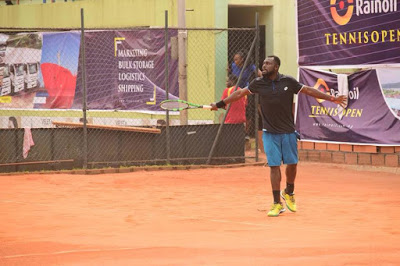 The number one seed in the Women's Single, Aanu Aiyegbusi, was also sleek in her match against her opponent, as she ended the match in two unreplied sets.
In a game she was expected to win, as one of the favourites for the trophy, the University of Port Harcourt graduate easily won 6-2, 6-2 against Khadijat Salami, a lucky loser from the preliminary round.
Results from other matches on day one showed there were a few unprecedented upsets against the top seeds of the tournament.
The first of such in the Men's Singles, was Albert Bikom's hard earned win against Ikechukwu Iloputa (aka Isner).
Bikom ran away with a 6-1, 7-6(5) win over the competition's number six seed. Nomso Madueke, the number two seed, also made a mince meat of his match against David John, winning 6-1, 6-4.
Godsgift Timibra, the number eight seed, was also a victim of an unlikely upset, as he was dismantled by Peter Lawal. The match ended 7-6(1), 6-0 in favour of Lawal.
Davis Cup player, Uche Oparaoji, was also in blistering form, defeating Wild Card entrant Shuaibu Ahamad 6-1, 6-0 to make his mark at this year's competition.
In the other matches of the Women's Singles, Blessing Otu could not rediscover the form that made her shine at the National Youth Games in Ilorin as she lost her first round match to Rachael Adunoye 2-6, 2-6.
Osareimen Airhunwunde, a Wild Card entrant, was also beaten by Blessing Omotayo, a qualifier from the preliminary rounds. The latter won 7-6(2), 6-4.
Omolade Aderemi also beat Maryam Salami, a Wild Card entrant, 6-1, 6-2 while Bunmi Are and Blessing Danjuma, both players from the qualifiers, played out a 6-0, 6-1 game in favour of Are.
With Philip, Atseye, Aiyegbusi and others booking their places in the next round of matches already, eyes will be on other players to progress on match day two.
Action will resume on Tuesday, 2 November, at the Dala Hard Court competition in Kano, and Nigeria Tennis Live will be sure to report to our audience.
Tagged:
Aanu Aiyegbusi
Abayomi Philip
Albert Bikom
Dala Hard Court Kano
Henry Atseye
National Tournaments
Nonso Madueke